Năm 2022 đánh dấu cột mốc quan trọng với VUS khi được công nhận là hệ thống giáo dục có số lượng trung tâm đạt chuẩn quốc tế NEAS nhiều nhất Việt Nam trong 5 liền. Thành tựu này chính là kết tinh của những nỗ lực nâng cao chất lượng giảng dạy và học tập tại các cơ sở trên toàn quốc nhằm tạo ra môi trường học tập hiệu quả nhất cho học viên.
Không chỉ ở mặt học tập, đội ngũ giảng dạy tại VUS cũng nhờ đó mà được làm việc trong một môi trường chuyên nghiệp và đạt chuẩn quốc tế. Lấy bốn giá trị cốt lõi – tự tin vững vàng, quan tâm sẻ chia, đồng lòng hợp tác và khát khao chiến thắng – làm nền tảng, VUS đã luôn không ngừng cải tiến hệ thống giáo dục để đội ngũ giảng dạy nhận được sự hỗ trợ tối ưu nhất, từ đó có thể có những bước tiến thật xa trên hành trình 'gieo chữ' của mình.
Trong không khí hân hoan của sự kiện này, hãy cùng nghe các thầy cô tận tâm và nhiệt huyết của chúng ta nói gì về công việc của mình tại VUS nhé.
———————————————
The year 2022 marks an important milestone for VUS as we were recognized as the educational system with the highest number of NEAS-endorsed centers in Vietnam for 5 consecutive years. This achievement is the result of countless efforts to improve the teaching and learning quality at campuses across the country to create the most effective learning environment for students.
Not only in terms of learning, the teaching staff at VUS also have the chance to work in an environment validated by international standards. Taking four core values – confident, caring, collaborative and aspirational – as the foundation, VUS has continuously improved our educational system in order to provide the teaching staff with the most optimal support, allowing them to make great strides on their teaching journey.
In the joyful atmosphere of this event, let's hear what our dedicated and enthusiastic Vietnamese Teachers say about their time at VUS.
Follow us for more exciting news!
#VUSEnglishTeachers#TeachEnglishAtVUS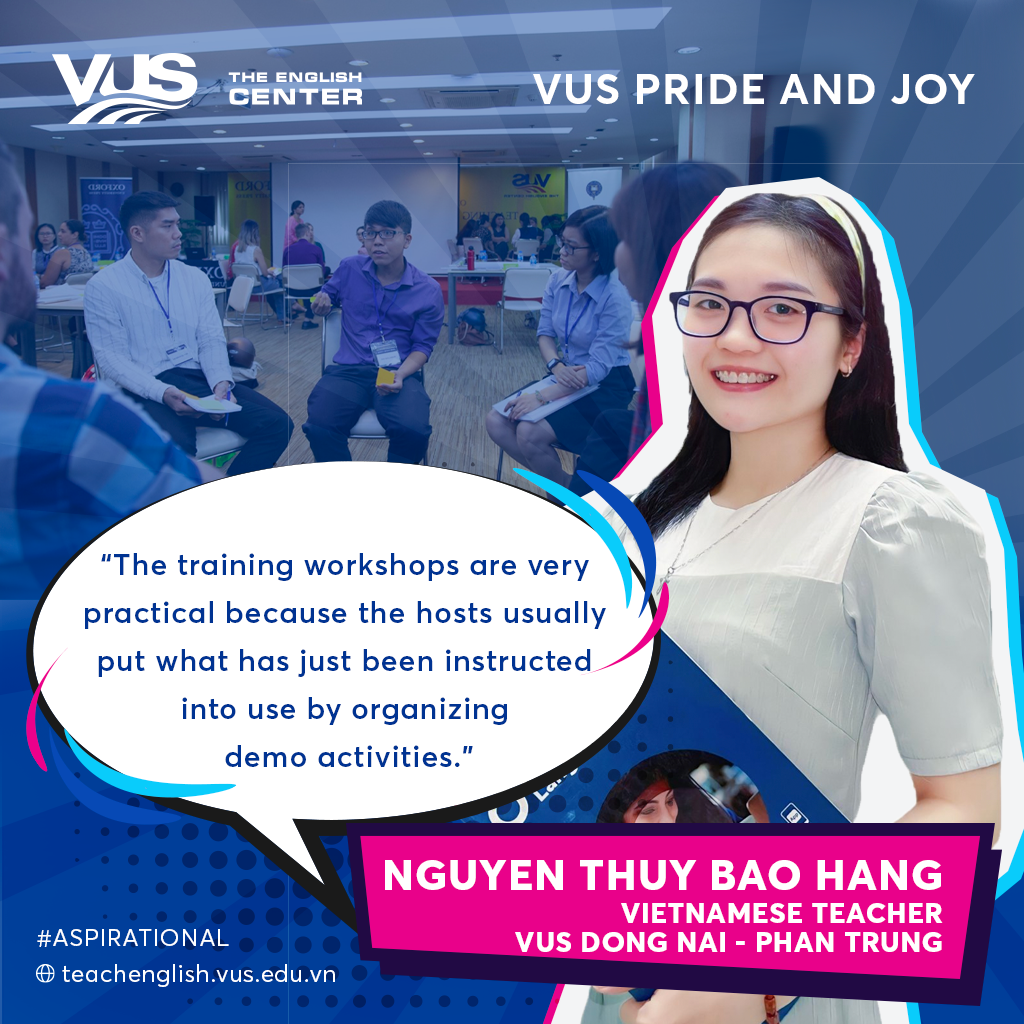 "Các buổi training workshop tại VUS rất hữu dụng đối với các giáo viên như mình, vì các anh chị dẫn buổi hôm đó sẽ thường tổ chức hoạt động demo sau khi đi qua phần hướng dẫn. Thay vì chỉ đưa ra những lý thuyết đơn thuần, các anh chị sẽ luôn dựng nên các tình huống thật trong lớp học, từ đó chỉ ra những vấn đề và cách giải quyết chúng. Mình đã học được rất nhiều điều hữu ích từ những buổi như thế và điều đó đã giúp mình cải thiện kỹ năng giảng dạy về sau này."
"The training workshops at VUS are very practical for me as a teacher because the hosts usually put what has just been instructed into use by organizing demo activities. Instead of giving only theory, the hosts really put their hearts in demonstrating the real life situations, pointing out problems that might occur and how to solve them. I learned a lot of useful insights during these sessions and that really helped me develop my skills later."
– Nguyen Thuy Bao Hang – VUS Dong Nai – Phan Trung
———————————————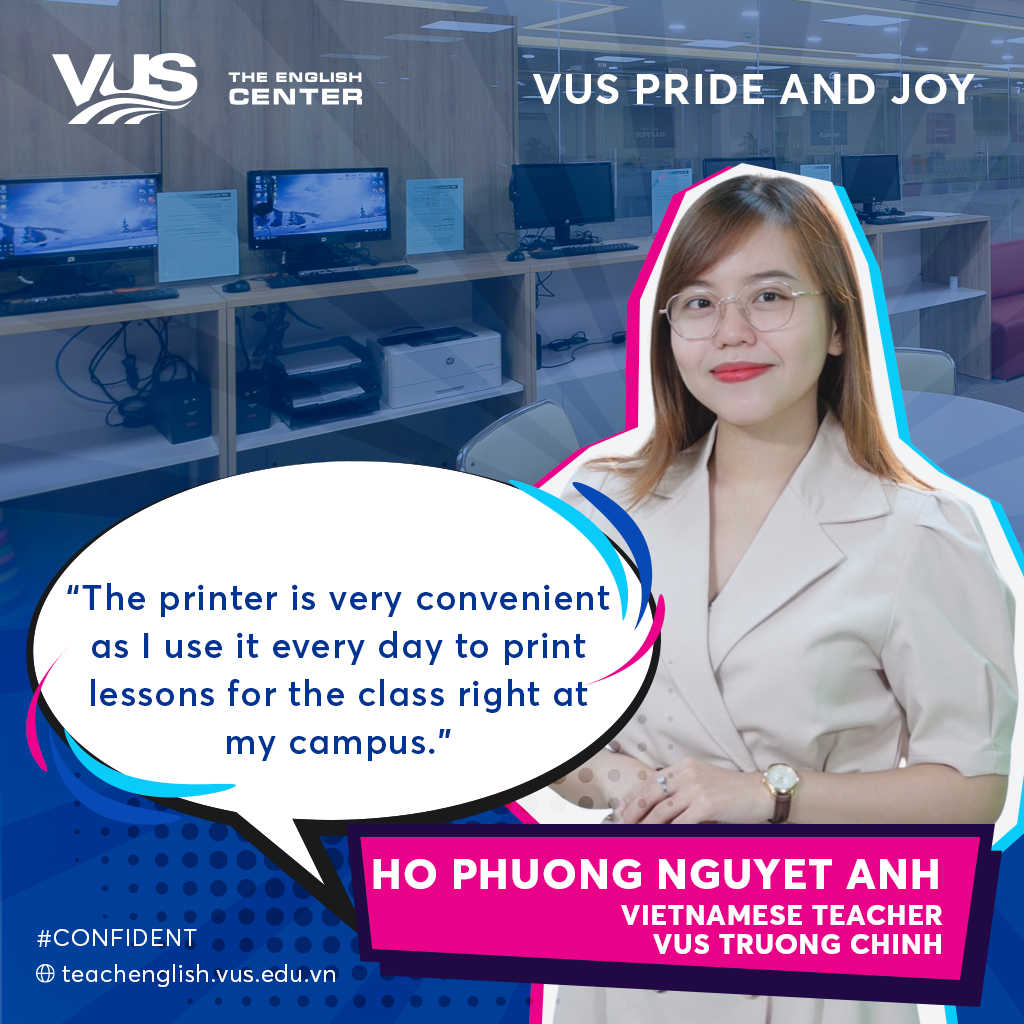 "Các giáo cụ luôn được các bạn TC sắp xếp gọn gàng và dễ tìm, các món ấy giúp các bé học vui hơn, đồng thời thuận tiện cho Giáo viên hơn vì có cái để dùng ngay thay vì mất công tự chuẩn bị. Nhìn chung các trang thiết bị khác tại cơ sở đều tiện lợi và hiện đại, đặc biệt là máy in vì mình luôn sử dụng hàng ngày để in bài cho lớp ngay tại cơ sở."
"The teaching supplements are always neatly arranged and easy to find by the TC staff, they make learning more fun for the children, and at the same time more convenient for teachers because we can have something to use right away instead of having to prepare by ourselves. Other equipment at the campus, in general, is convenient and modern, especially the printer as I use it every day to print lessons for the class right at my campus."
– Ho Phuong Nguyet Anh – VUS Truong Chinh
———————————————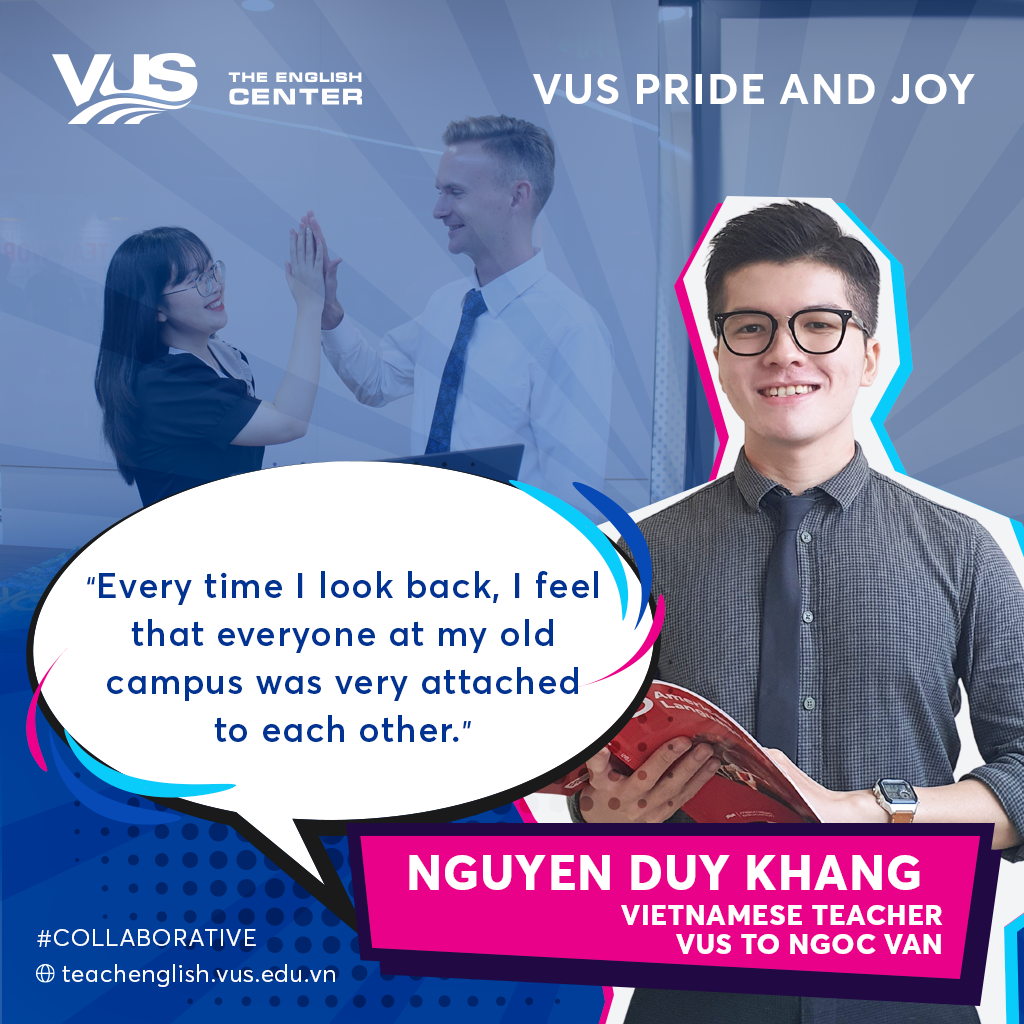 "Khi mình chuẩn bị chuyển cơ sở từ Nguyễn Duy Trinh sang Tô Ngọc Vân, tại cơ sở cũ của mình hôm ấy có tổ chức một buổi tiệc chia tay mình. Ngày hôm đó, các bạn Trợ giảng, các bạn Giáo viên và chị TQM đã cùng ngồi lại với nhau trò chuyện và chụp hình. Trước đó mọi người có níu kéo mình ở lại cơ sở làm việc nhưng vì hoàn cảnh bắt buộc nên mình phải chuyển đi. Mỗi khi nhìn lại, mình cảm thấy mọi người ở cơ sở cũ rất gắn bó với nhau và bữa tiệc chia tay hôm ấy là một kỉ niệm rất đáng nhớ với mình."
"When I was about to move from Nguyen Duy Trinh to To Ngoc Van campus, there was a farewell party at my old campus. That day, the Teaching Assistants, the Teachers and Ms. TQM sat together to talk and take pictures. Before that, everyone had asked me to stay and keep working there, but because of the circumstances, I had to move. Every time I look back, I feel that everyone at my old campus was very attached to each other and the farewell party that day was very memorable for me."
– Nguyen Duy Khang – VUS To Ngoc Van
———————————————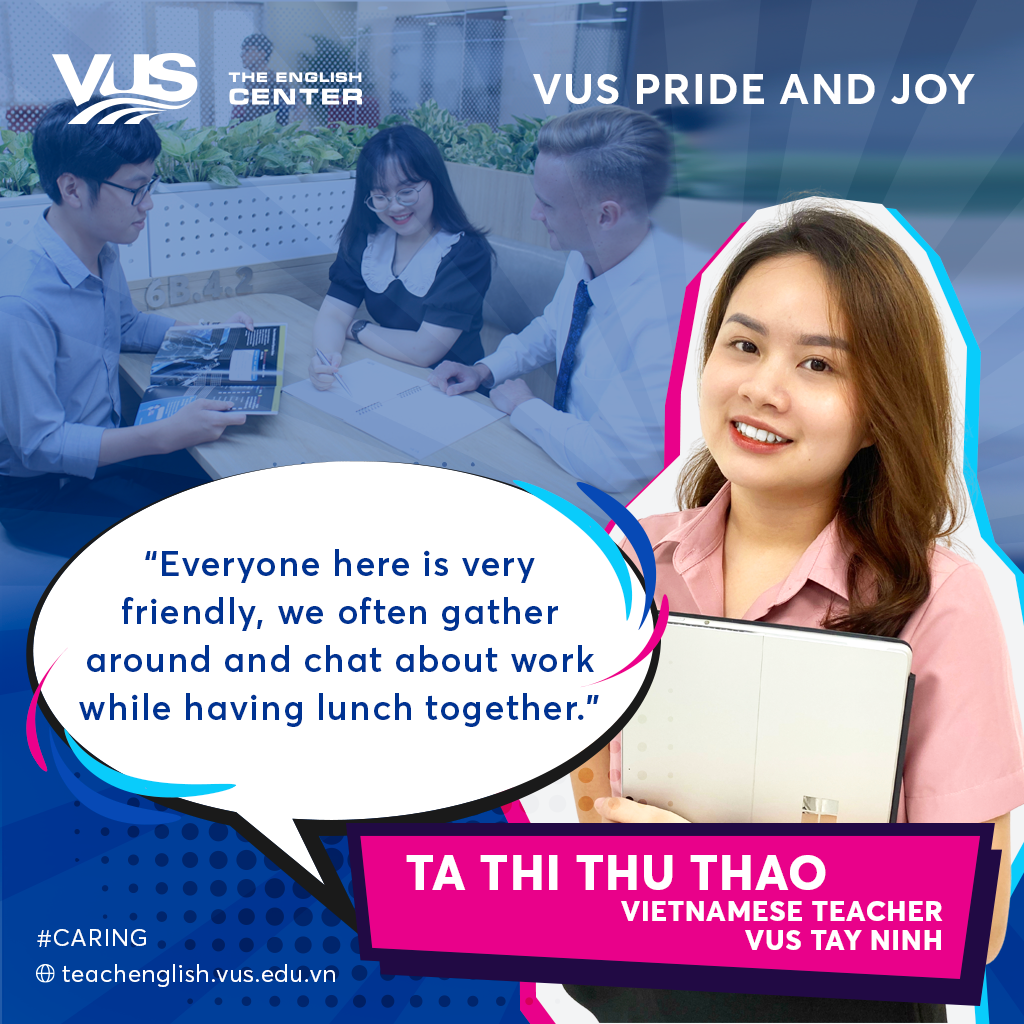 "Bạn nhân viên OE luôn luôn chủ động hỗ trợ mình bằng cách hỏi thăm mình trước mỗi buổi học xem lịch đã lên chưa hay mình đã có đủ tài liệu giảng dạy chưa. Mỗi khi có việc bận, chị CM sẽ hỗ trợ tìm giáo viên thay thế trong trường hợp mình không thể đến lớp. Mọi người ở đây đều rất gần gũi và thân thiện, chúng mình thường hay quây quần ăn trưa với nhau và chia sẻ cho nhau nghe về công việc."
"The OE staff always looks out for me by proactively checking on me before classes to see if the schedule is up to date or if I have enough teaching materials. Every time I'm busy, the CM always aids in finding substitutions so I don't have to worry about not being able to come to classes. Everyone here is very friendly and supportive to each other, we often gather around and chat about work while having lunch together."
– Ta Thi Thu Thao – VUS Tay Ninh
————————————————
For the best English teaching job in Vietnam, look no further than VUS. Please visit our website to learn more about the school and apply:

https://teachenglish.vus.edu.vn/