Trên hành trình mang môi trường giáo dục đạt chuẩn chất lượng quốc tế tới mọi miền tổ quốc, VUS đã vinh dự nhận được sự công nhận của NEAS – tổ chức độc lập hàng đầu về đánh giá chất lượng giảng dạy trên toàn thế giới. Năm nay, VUS tự hào 5 năm liền là hệ thống giáo dục có số lượng trung tâm đạt chuẩn quốc tế NEAS nhiều nhất Việt Nam
.
Cột mốc quan trọng này chính là một phần trong nỗ lực cung cấp cho giáo viên và trợ giảng một môi trường làm việc chuyên nghiệp và hiện đại dựa trên bốn giá trị cốt lõi mà VUS luôn hướng đến: tự tin vững vàng, quan tâm sẻ chia, đồng lòng hợp tác và khát khao chiến thắng; từ đó tạo điều kiện tối ưu để đội ngũ giảng dạy có thể làm việc một cách hiệu quả nhất.
Trong không khí hân hoan của sự kiện này, hãy cùng nghe những bạn Trợ giảng đáng yêu của chúng ta nói gì về công việc của mình tại VUS nhé.
————————————–
On our journey to expand education across the country, VUS has gained recognition from NEAS – a leading independent organization for teaching quality assessment around the world. This year, we are proud to have the highest number of NEAS-endorsed centers in Vietnam for 5 consecutive years.
This milestone was accomplished as part of the attempt to provide teachers and teaching assistants with the most professional and modern working environment possible based on our four core values: confident, caring, collaborative and aspirational; thereby creating the optimal conditions for them to impart knowledge effectively.
In the joyful atmosphere of this event, let's hear what our lovely Teaching Assistants say about their time at VUS.
Follow us for more exciting news!
#VUSEnglishTeachers#TeachEnglishAtVUS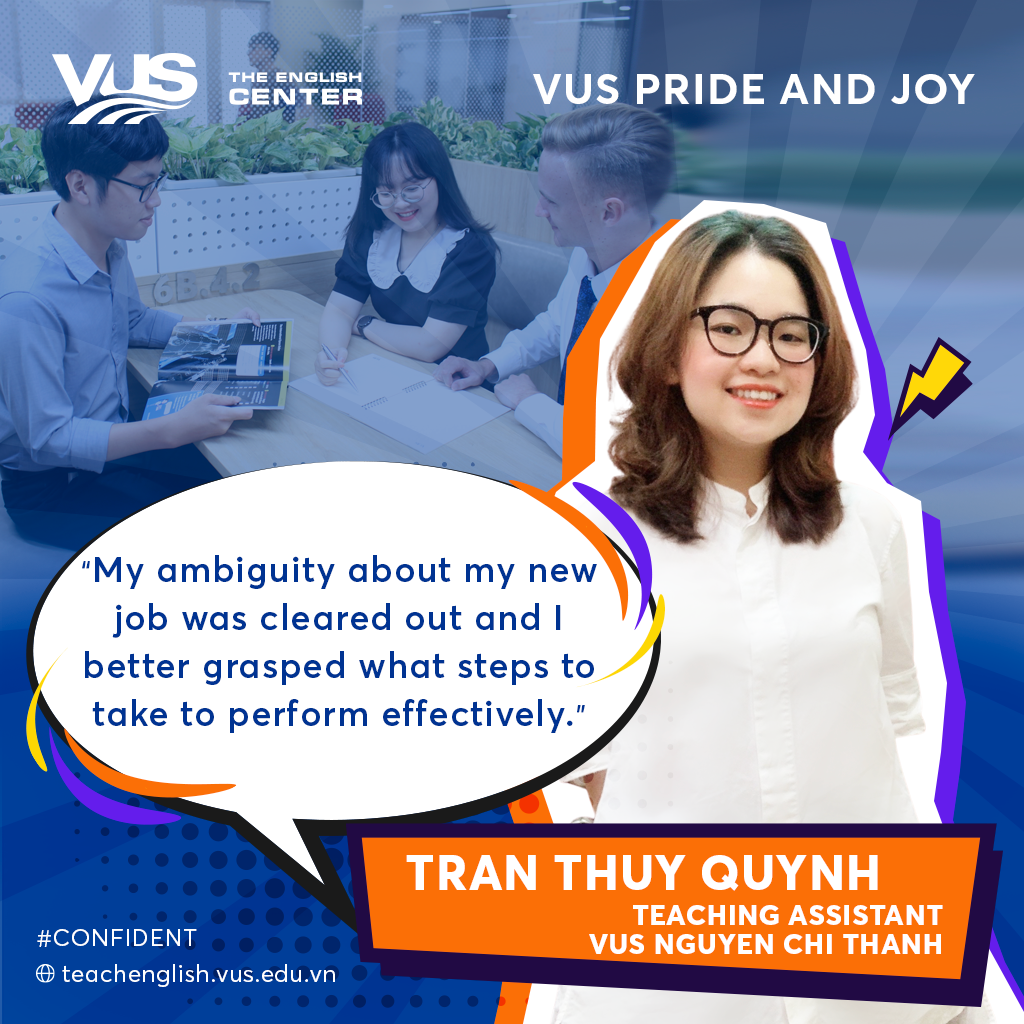 "Khi mới bắt đầu công việc tại VUS, em đã nhận được sự trợ giúp từ rất nhiều phía, nhưng trong số đó, sự hỗ trợ từ phía các anh chị TC là hữu ích nhất. Ban đầu em khá sợ và mơ hồ về những gì mình phải làm, nhưng với sự giúp đỡ và giải thích tận tình từ các anh chị, sự mơ hồ ấy của em đã dần biến mất và em đã hiểu rõ hơn mình cần phải làm gì."
——————————————–
"When I first started working at VUS, I received assistance from many different departments, but the support from the TC personnel was by far the most helpful. With the constant guidance and explanation from them, my ambiguity about my new job was cleared out and I better grasped what steps to take to perform effectively."
– Tran Thuy Quynh – VUS Nguyen Chi Thanh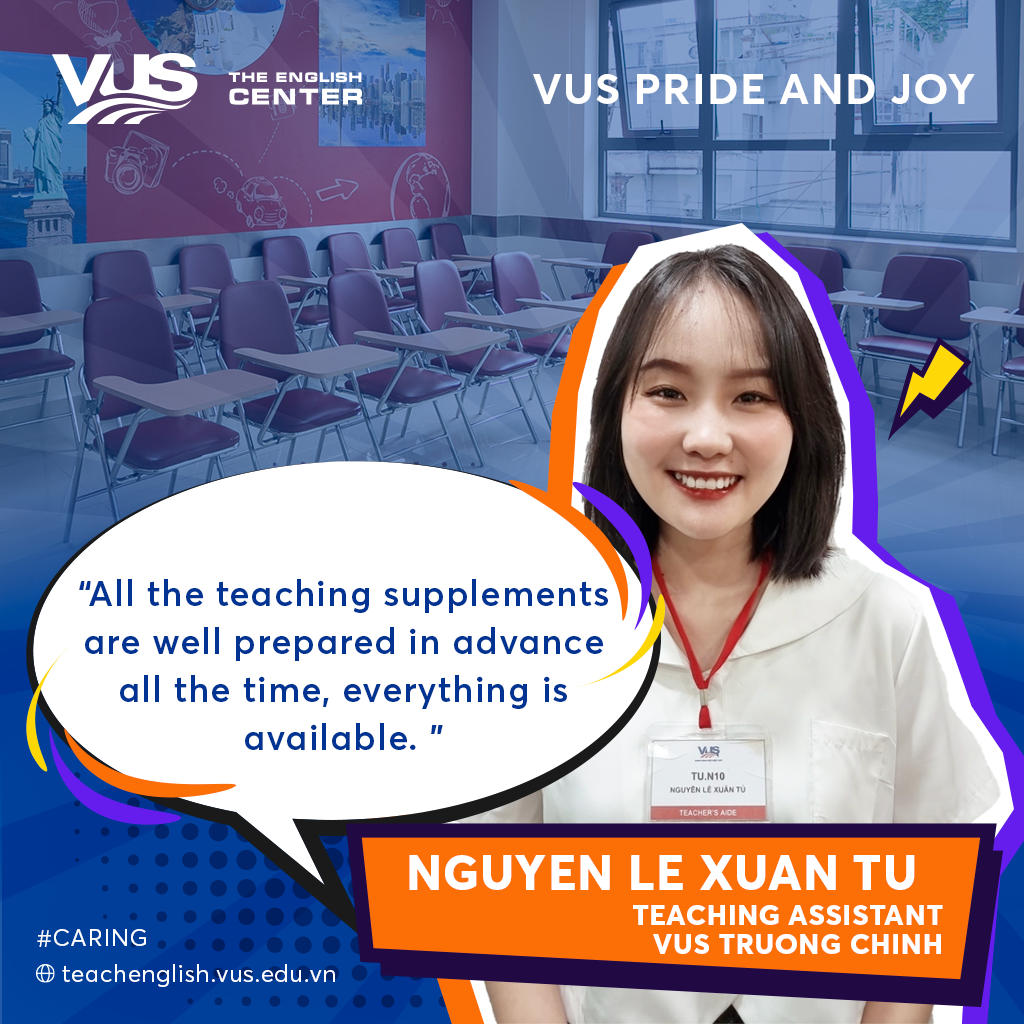 "Tất cả những dụng cụ giảng dạy đều được chuẩn bị rất chu đáo trước khi lớp học bắt đầu, từ băng keo cho tới bóng dính và gấu bông. Những vật dụng này rất hữu ích trong việc tổ chức hoạt động trong lớp bởi các bé rất thích việc vừa chơi vừa học với những món đồ này. Ngoài ra, những trang thiết bị khác như máy tính và máy chiếu đều có chất lượng tốt và hỗ trợ em rất nhiều trong công việc."
———————————————
"All the teaching supplements are well prepared in advance all the time and everything is available, from duct tapes to sticky balls to teddy bears. These objects are very helpful in classroom activities because the children really love playing and learning with them. Other equipment, such as computers or projectors, are high-quality and really help make my work become easier."
– Nguyen Le Xuan Tu – VUS Truong Chinh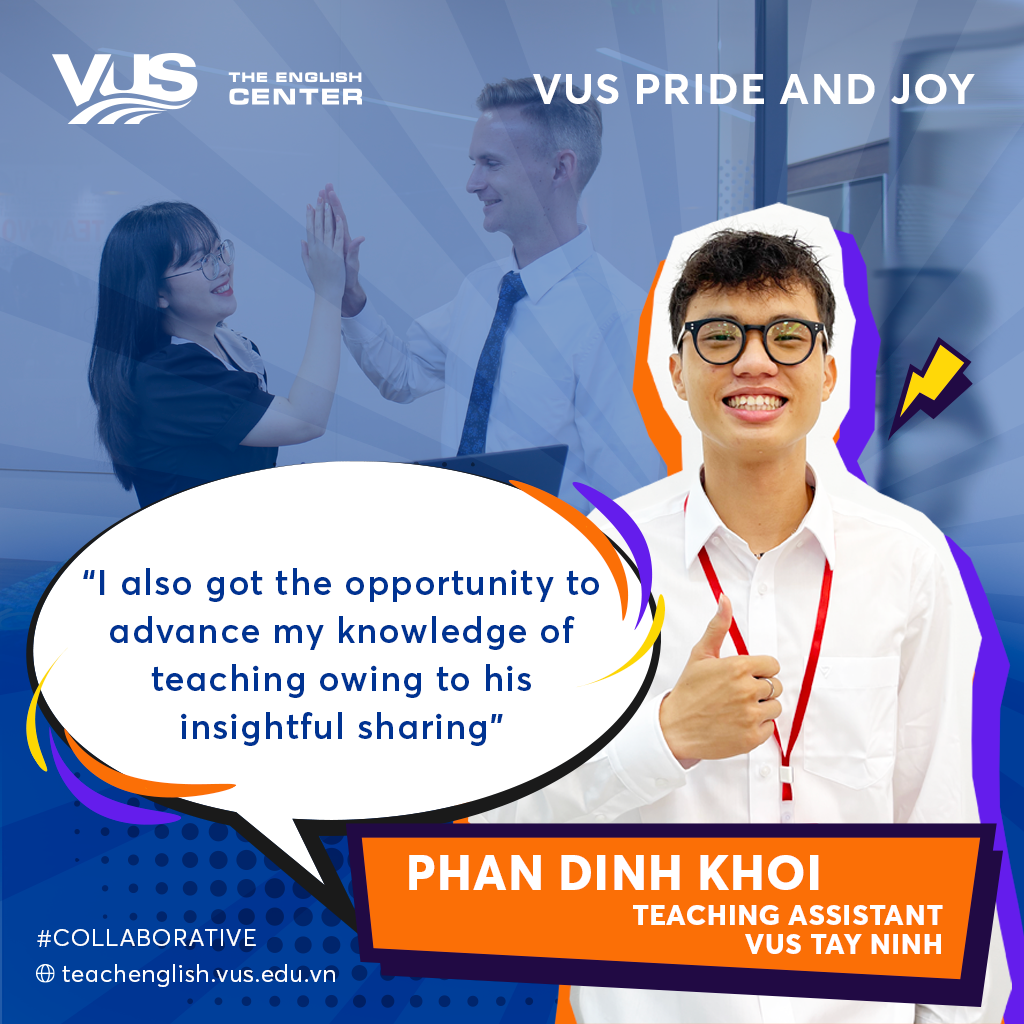 "Khi còn làm tại cơ sở Phan Xích Long, trong lớp em có một bé học viên khá cứng đầu và không chịu học mỗi khi đến lớp. Để có thể giải thích cho bé hiểu và thuyết phục bé tiếp tục đi học, em đã phải làm việc với giáo viên đứng lớp rất nhiều. Đây là một cơ hội rất tốt với em, vì em không chỉ được cùng thầy giải quyết vấn đề, mà còn học được rất nhiều kinh nghiệm giảng dạy từ thầy ấy. Cho tới tận bây giờ, em vẫn còn giữ liên lạc với thầy dù đã chuyển cơ sở, và những tháng ngày đó chính là một kỉ niệm vô cùng đáng nhớ với em khi làm việc tại đây."
———————————————
"Back when I was working at Phan Xich Long campus, there was a difficult situation where a student in my class was a little stubborn and didn't want to study. In order to explain and convince him to be willing to learn again, I had to work with the teacher. Not only did we have to collaborate to solve the case at hand, but I also got the opportunity to advance my knowledge of teaching owing to his insightful sharing. I still keep in touch with him to this day, and it was a wonderful recollection from my time at VUS."
– Phan Dinh Khoi – VUS Tay Ninh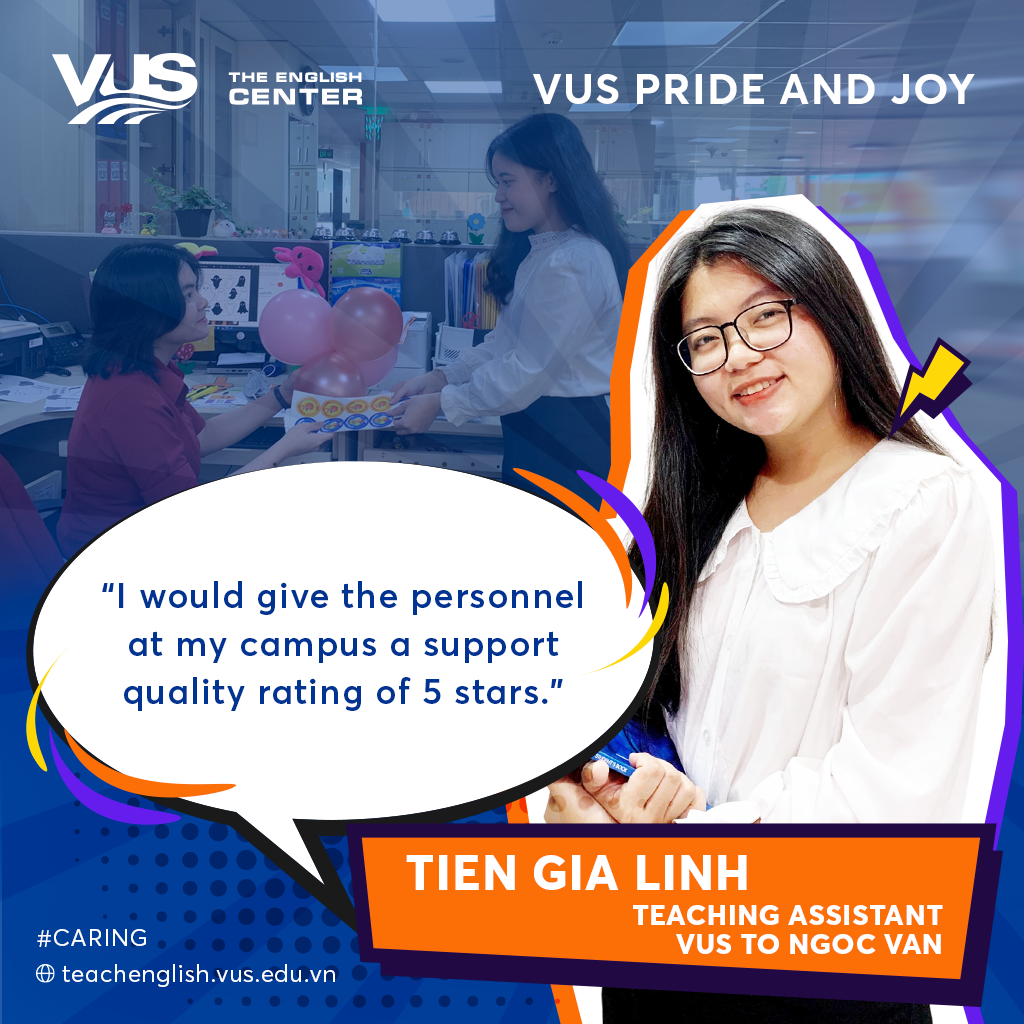 "Mỗi khi lớp học xảy ra vấn đề, ví dụ như điều hòa quá lạnh, phòng không đủ ghế hay bất kì những vấn đề kĩ thuật nào khác, các anh chị TC sẽ luôn xuất hiện kịp thời để hỗ trợ Giáo viên và Trợ giảng. Về phía chị TQM ở cơ sở em, chị ấy luôn sẵn sàng hỗ trợ mỗi khi em có bất cứ khó khăn nào trong công việc. Nếu phải đánh giá chất lượng hỗ trợ của các anh chị tại cơ sở, em sẽ đánh giá họ ở mức 5 sao vì các anh chị rất đỗi nhiệt tình và tận tâm."
———————————————
"Whenever troubles arise in classes, such as too cold air conditioning, chairs missing or any other technical problems, the TC staff are constantly on hand to quickly assist teachers and teaching assistants; and my TQM is always there to help me if I ever have any worries. Thanks to their excitement and attention, I would give the personnel at my campus a support quality rating of 5 stars."
– Tien Gia Linh – VUS To Ngoc Van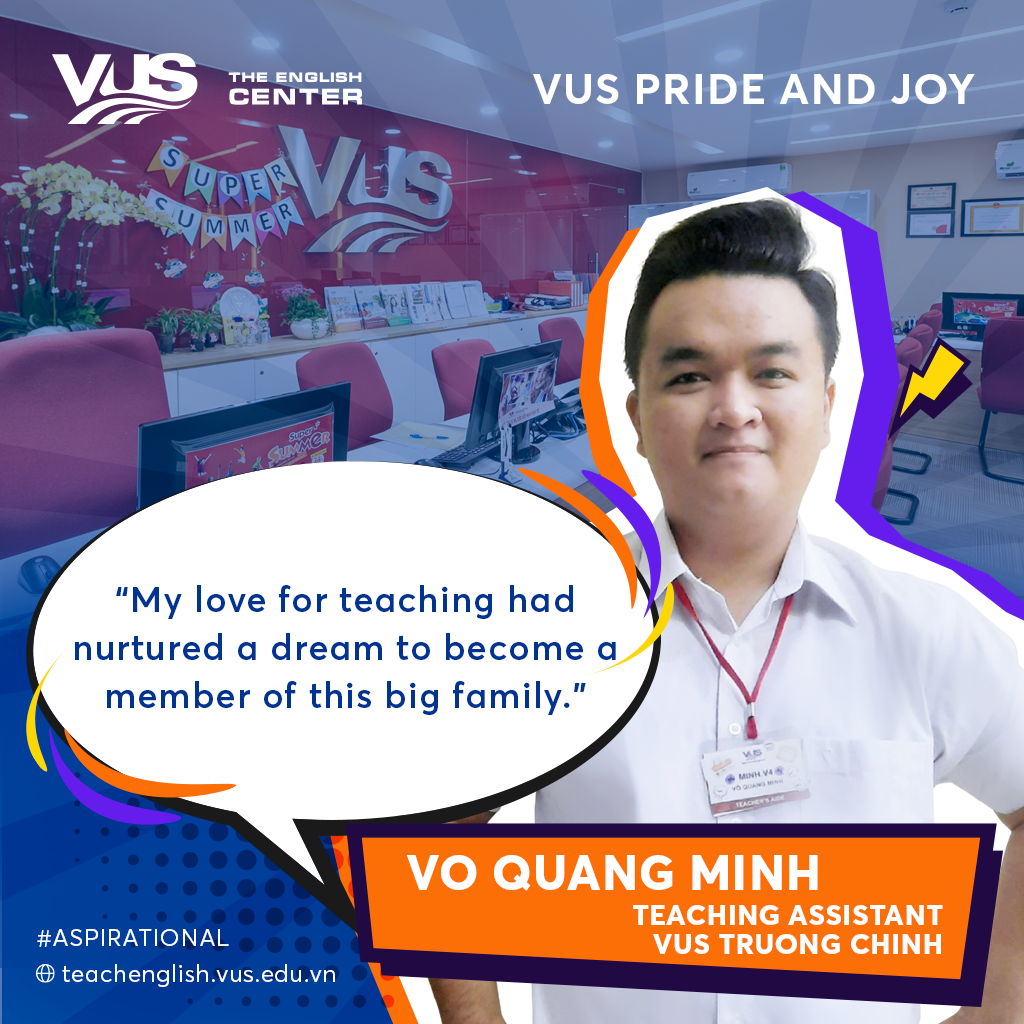 "Kể từ khi còn là học viên của VUS, em đã luôn mong ước được làm việc tại đây trong vai trò giảng dạy vì em rất yêu thích công việc này. Giờ đây, khi giấc mơ thuở nào đã trở thành hiện thực, bản thân em cảm thấy rất vui. VUS sở hữu một môi trường làm việc chuyên nghiệp, cùng với đó là những anh chị giáo viên và nhân viên kinh nghiệm, luôn sẵn lòng chia sẻ kiến thức và giúp đỡ em mỗi khi em gặp trở ngại."
———————————————
"Ever since I was still a student at VUS, my love for teaching had nurtured a dream to become a member of this big family in the role of a teaching staff. Now that my dream has come true, I feel very happy as I can work at VUS, a professional working environment with many experienced teachers and staff who are always willing to share their knowledge and help me out anytime I need it."
– Vo Quang Minh – VUS Truong Chinh
————————————————–
For the best English teaching job in Vietnam, look no further than VUS. Please visit our website to learn more about the school and apply:
https://teachenglish.vus.edu.vn/