After 2 years of being negatively affected by the COVID-19 pandemic, everyone has suffered from a lack of engagement with other people. This issue was the result of social distancing, causing our face-to-face interactions to be limited to computer screens. In the post-Covid world, with the toughest times having finally come to an end, teachers, teaching assistants and students are now able to reunite in live classrooms and are ready for new adventures.
This year, we are thrilled to announce that our new contest with the theme of connection – V-CONNECTORS CONTEST – will begin on the occasion of Teachers' Day 2022!
𝗣𝗮𝗿𝘁𝗶𝗰𝗶𝗽𝗮𝗻𝘁𝘀: All Vietnamese and expat teachers and Teaching assistants from southern VUS campuses.
𝗛𝗼𝘄 𝘁𝗼 𝗽𝗮𝗿𝘁𝗶𝗰𝗶𝗽𝗮𝘁𝗲:
𝑆𝑡𝑒𝑝 1: Create a video clip or take photos in any format according to the theme "MY VUS MOMENT"Suggestions:
Record your moments at work/a day of work at VUS.
Demonstrate the steps you take to prepare for classes.
Share the moments you join VUS activities with other teachers/ teaching assistants.
𝑆𝑡𝑒𝑝 2: Post your product on one personal social media account (Facebook, Instagram, TikTok, etc), set on public mode, using the hashtags #VUSMoments#TeachAtVUSNote: No limit on the number of products
𝑆𝑡𝑒𝑝 3: Fill in the form (shorturl.at/fiLV0) to submit your product.
𝗧𝗶𝗺𝗲𝗹𝗶𝗻𝗲: From October 26,2022 to November 13, 2022
𝗣𝗿𝗶𝘇𝗲𝘀:
01 First Prize: 3,000,000 VND in cash or gift vouchers
02 Second Prizes: 2,000,000 VND/prize in cash or gift vouchers
03 Third Prizes: 1,000,000 VND/prize in cash or gift vouchers
10 Top Reactions and Shares : 500,000 VND/prize in cash or gift vouchers
05 Prizes for top campus (campuses with the highest total number of products): 3,000,000 VND/prize in cash or gift vouchers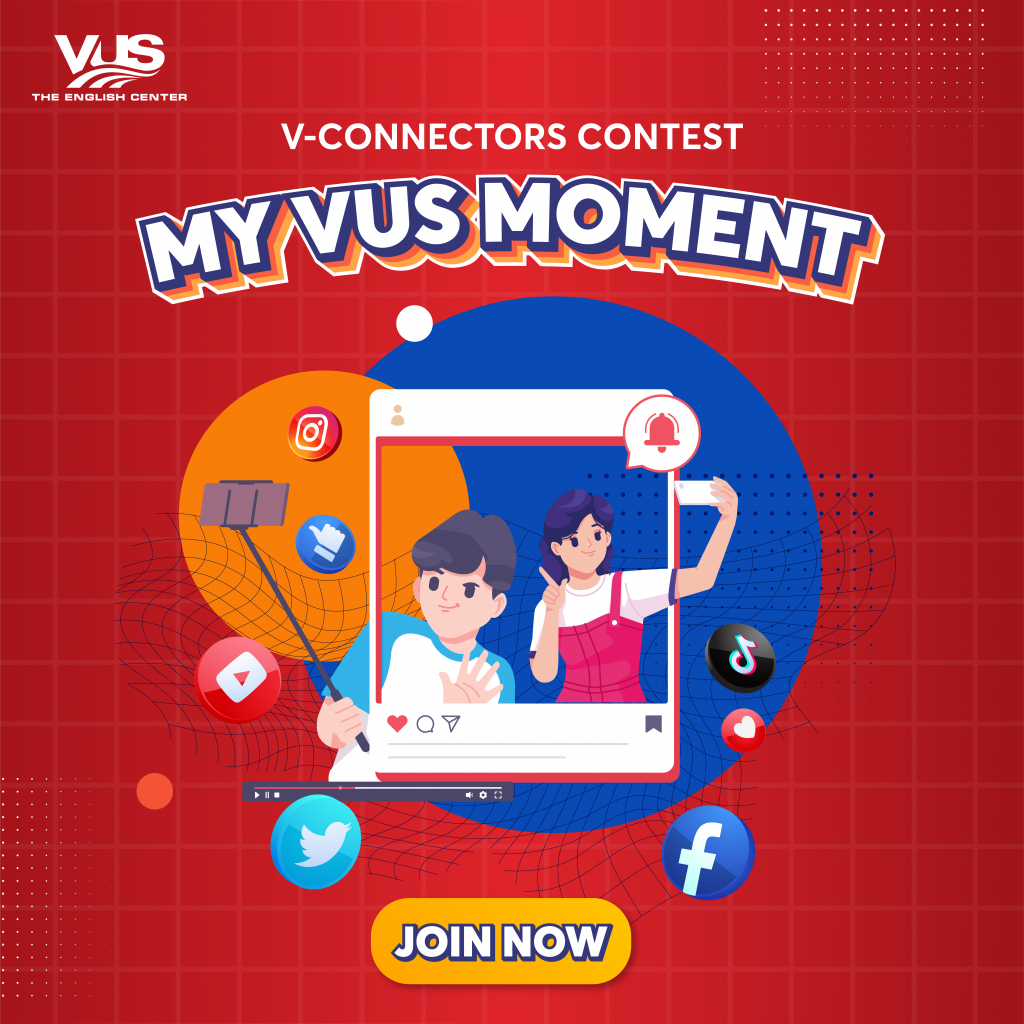 Please check your email, teacher portal or ask your campus's TQM for more information and rules.
Join now and share your favorite moments at VUS with everyone!
#VUS #TeachEnglishAtVUS #TeachAtVUS #VUSMoments #Teachersday