OH NO! Spring is in the air but don't know where to go yet? Why don't you take a look at some places that you can explore during the holiday!
You don't have to feel lonely during Tet holiday because Tet is a special occasion where there are many events and activities going on. If you love to learn about the ancient architecture that is still around today, it is a good idea to spend your time visiting some old buildings or houses which can be found all over Vietnam.
Or if you want to break away from the bustling city to truly immerse in nature, you can also take a tour to the Southwest of Vietnam where unique cultural features have been preserved over many years.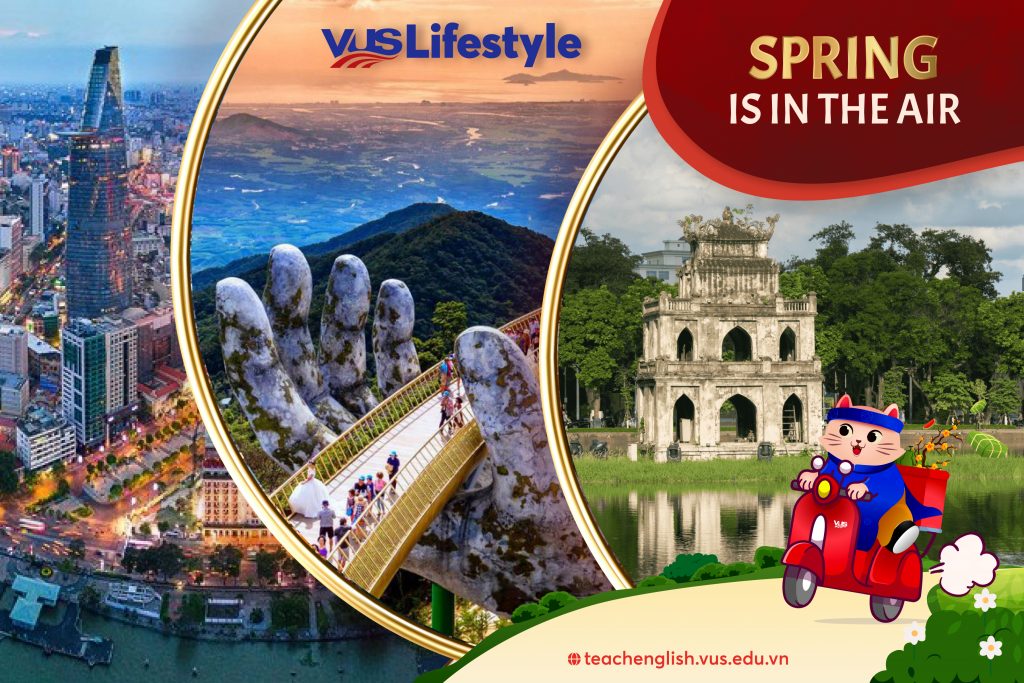 More details? Navigate to the photos below to see the list of several well-known destinations.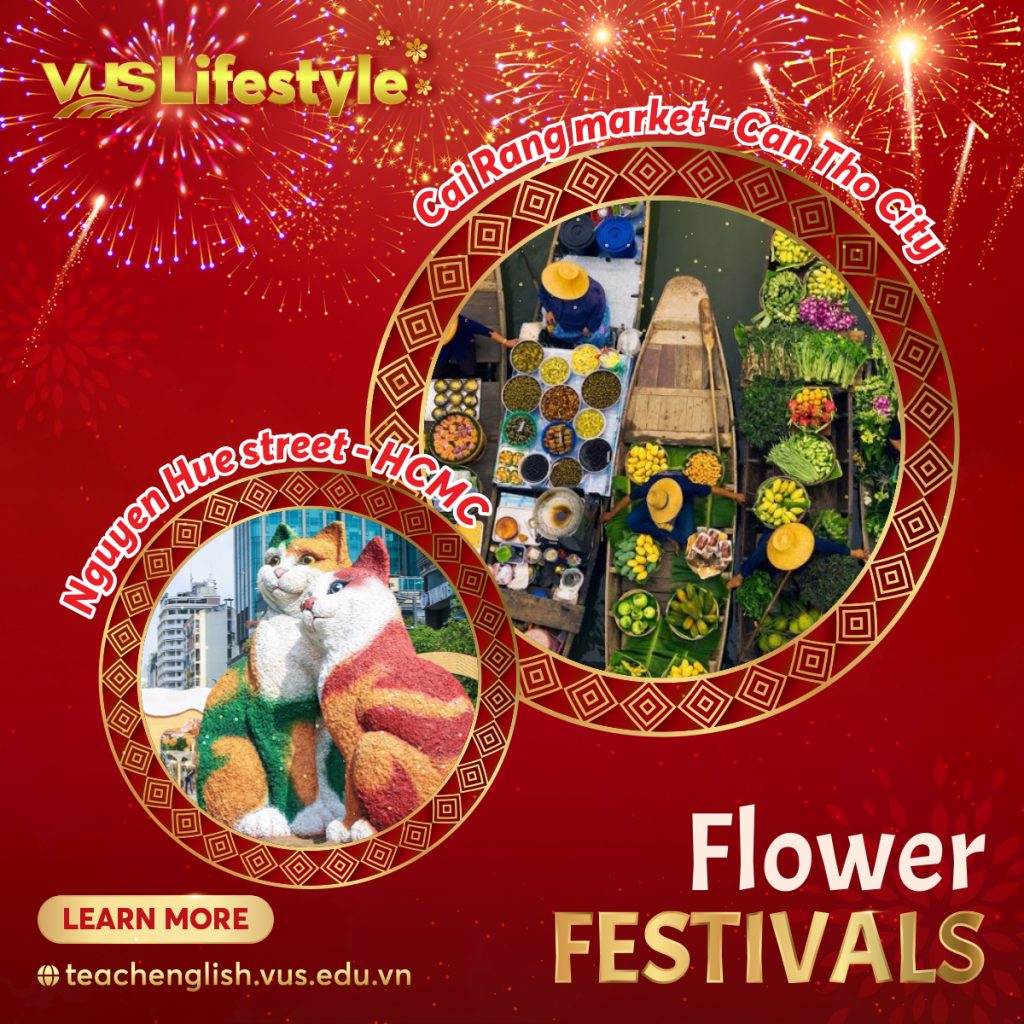 𝗡𝗘𝗫𝗧 𝗔𝗥𝗥𝗜𝗩𝗔𝗟 – 𝗧𝗛𝗘 𝗙𝗟𝗢𝗪𝗘𝗥 𝗙𝗘𝗦𝗧𝗜𝗩𝗔𝗟
This is a unique event which is held every year to celebrate Tet holiday. There are different kinds of flowers from various regions which are arranged in beautiful shapes. Each year, the theme will be decorated based on the animal of the year according to the Vietnamese Zodiac. This festival is organized all over the country, whether in South or the North, VUS-ers can experience it.
You may observe the beauty of hundreds of various kinds of flowers on the streets or in the parks around Vietnam. Nguyen Hue pedestrian street is not the only well-known place for beautiful flower displays. Why not experience a new one? Take a small tour to Phu My Hung in District 7 where you can admire not only the beauty of flower blossoms, but also the romantic Starlight bridge lit up with colorful lights and a refreshing view.
Have you ever seen flowers on a river?
Lots of bright flowers and fresh delicious fruits are arranged nicely on the boats and at the bank of the canal so that everyone can buy them easily. Moreover, the vendors usually wear "Ao Dai " or "Ao Ba Ba " on Tet holiday to celebrate the cultural tradition.
Where is it? – In the southwest of Vietnam, visiting Cai Rang floating market in Can Tho city is the best choice for you to not only experience this interesting festival but also get a sense of how water commerce operates in the Delta. Instead of walking around to enjoy the festival, this time, you will need a boat to experience the event.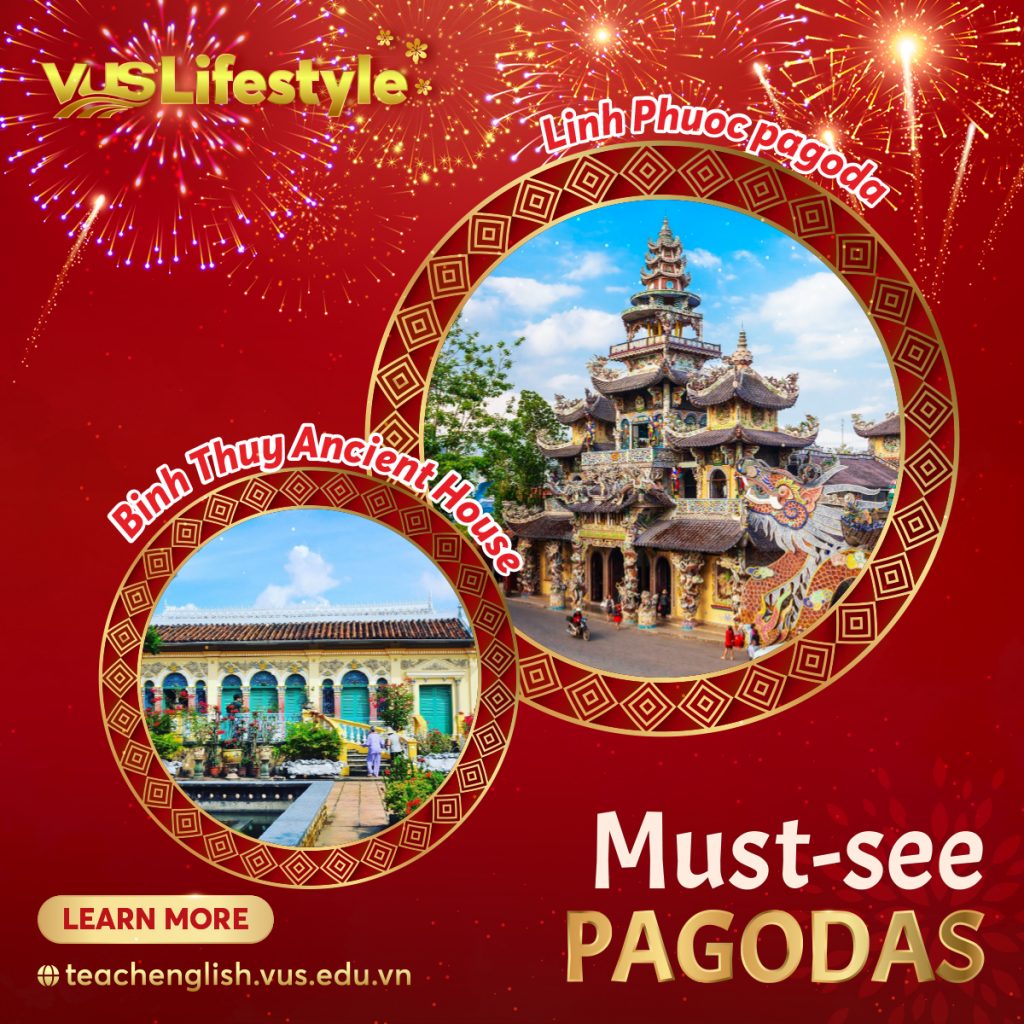 𝗪𝗛𝗘𝗥𝗘 𝗗𝗢 𝗪𝗘 𝗚𝗢 𝗡𝗘𝗫𝗧?

Tet is a special occasion to learn about Vietnam's festive culture as well as a great opportunity to discover pagodas with unique architecture associated with Vietnamese history. Visiting pagodas during Tet holiday is also a part of Vietnamese custom on the first day of the New Year, hence, there are lots of pagodas all over the country.
So what are you waiting for? Take a look at these places below !
Buu Long pagoda – HCMC: Typical architecture combined between the quintessence of the Nguyen dynasty aesthetic and Southeast Asia's culture.
Linh Phuoc pagoda – Da Lat city: A unique pagoda made of carvings of porcelain and a giant structure that keeps the history of Vietnam as well as the world.
Binh Thuy Ancient House – Can Tho City – One of the most beautiful old houses in the Mekong Delta. The house is well-known for its unique architecture and priceless objects housed inside which will definitely surprise you!
Buu Quang pagoda – Dong Nai province: The biggest pagoda located in Dong Nai. Visitors will undoubtedly fall in love with the breathtaking scenery and the charming natural landscape from Chua Chan mountain.
Pick your favorite destination and pack your things now!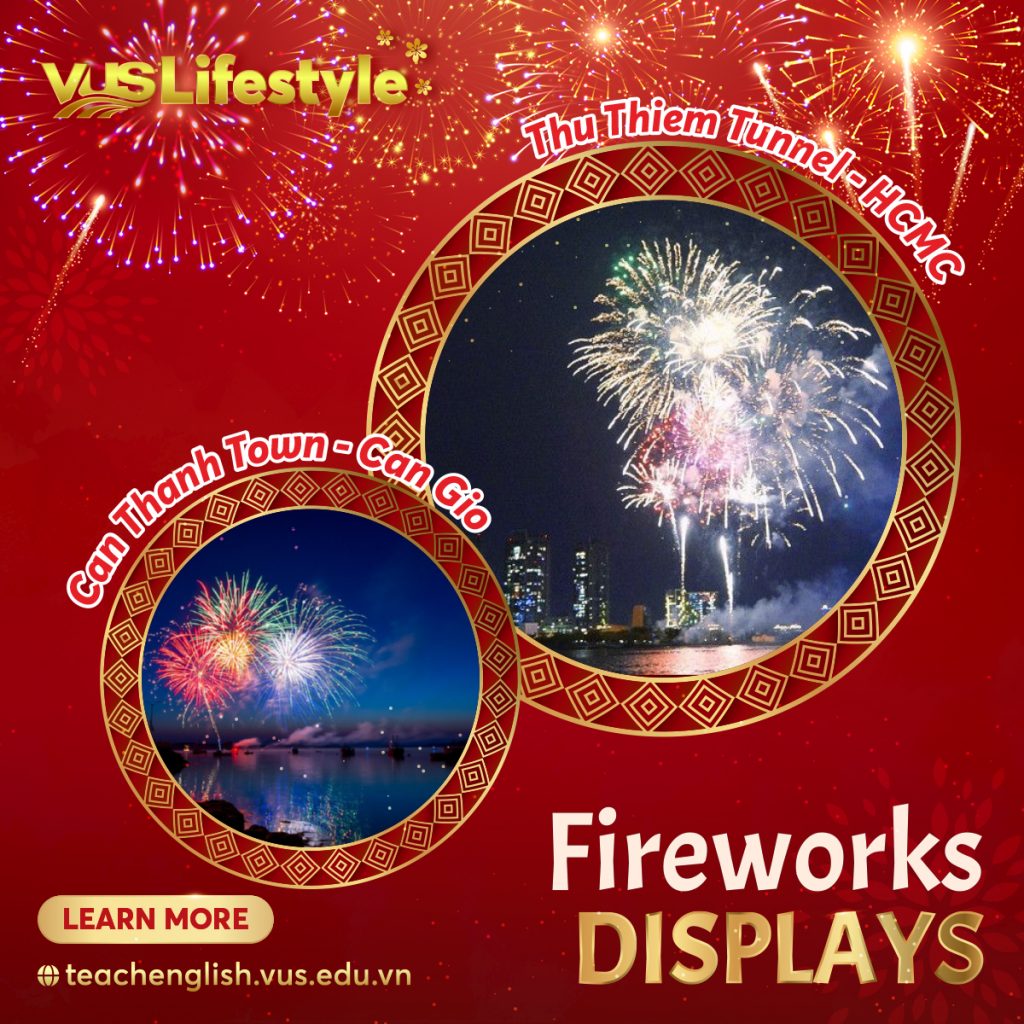 𝟲 𝗟𝗢𝗖𝗔𝗧𝗜𝗢𝗡𝗦 𝗧𝗢 𝗪𝗔𝗧𝗖𝗛 𝗙𝗜𝗥𝗘𝗪𝗢𝗥𝗞𝗦 𝗗𝗜𝗦𝗣𝗟𝗔𝗬 𝗜𝗡 𝗛𝗢 𝗖𝗛𝗜 𝗠𝗜𝗡𝗛 𝗖𝗜𝗧𝗬!!

Brilliant fireworks performances mark the arrival of a New Year and watching fireworks has become an indispensable custom in countries all over the world. Just like other Western countries, in Vietnam, people also tend to go out on New Year's Eve with their loved ones, choosing an ideal fireworks display spot to enjoy and celebrate together.
If this is your first time experiencing Tet holiday in Vietnam and don't want to miss the biggest lights show of the year, why don't you take a look at these destinations below?
The fireworks show this year commemorates not just for the upcoming New Year but also the recovery after 2 years of the Covid pandemic. This year, fireworks will light up the sky over six sites in Ho Chi Minh city. Two new venues for fireworks performances are a memorial of martyrs in Binh Chanh District and Can Thanh Town in Can Gio District. Or you can come to Thu Thiem Tunnel and Ben Noc Memorial Temple in Thu Duc City, Dam Sen Cultural Park in District 11, and Ben Duoc Memorial Temple in Cu Chi District.
What could be happier than being with loved ones on New Year's Eve? Raise a toast to the New Year together.