At VUS, teachers and teaching assistants are always supporting our students on their path to success. Being V-Connectors, they devote their time not just to their teaching careers but also to helping their students make connections with others and fulfill their drive to learn and grow. Additionally, V-Connectors establish connections with their coworkers and staff members on campus to foster a welcoming and professional work environment.
The series of events celebrating V-Connectors on Vietnam Teachers' Day continues with the sharing of wholehearted expat teachers at VUS. Teachers act as the V-Connectors who connect students to their own growth. They have also helped foster a sense of community among employees at VUS, resulting in the development of a dynamic, creative, and friendly work environment.
Let's listen to what our exceptional expat teachers said about their journey of making connections at VUS.
Taking four core values – confident, caring, collaborative and aspirational – as the foundation, teachers and teaching assistants at VUS are also the V-Connectors who support and guide the students' learning journeys towards a brighter future.
#VUSEnglishTeachers #TeachEnglishAtVUS 
#Vietnamteachingjob #TeachersDay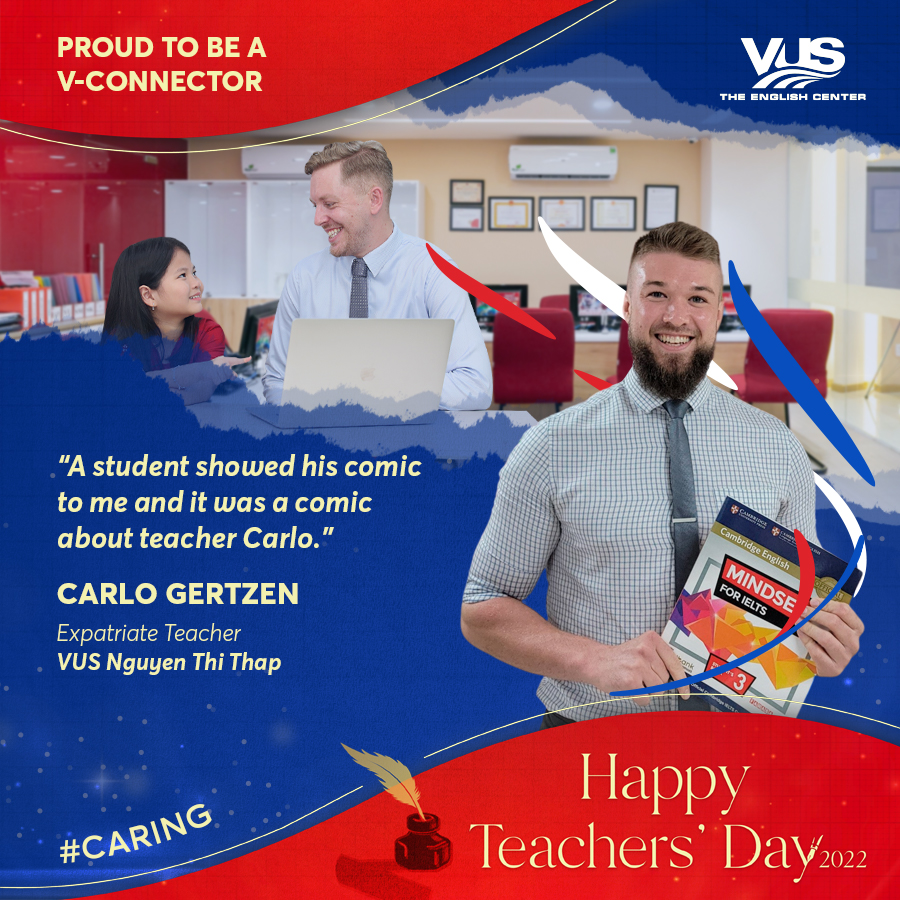 "There was a kid in one of my classes who loves drawing. During my lessons, he kept on drawing and didn't look like he was paying attention, but if I asked him something, he always knew how to answer them. At first, I didn't allow him to draw in my classes, but it turned out that if he didn't draw something, his attention couldn't be fixed and he could get disruptive. That was when I started allowing him to draw so he could control his attention. Everything went well since then and one day, he came to class with a comic drawn by himself. He showed it to me and it was a comic about teacher Carlo. That really made me feel very happy and made me think that my effort in helping him was appreciated."
CARLO GERTZEN – VUS NGUYEN THI THAP
—————————–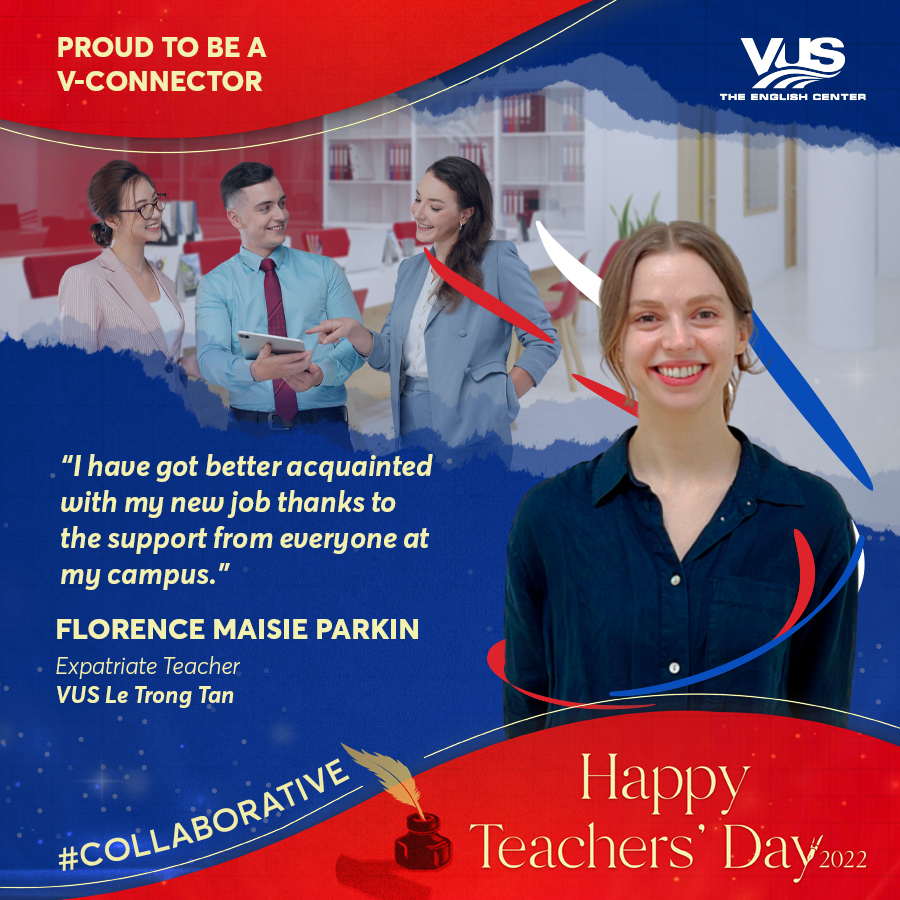 "I have only been here for over one month, but I have got better acquainted with my new job thanks to the support from everyone at my campus. The training workshops hosted by VUS have given me many interesting ideas about what games to use during lessons and how to manage the classes more effectively. If I ever had any problem with teaching, the TQM would advise me to help me solve all those problems, such as on how to include ICQ and CCQ questions in my lessons or how to make connections with my students. Other expat teachers, besides their tips about classroom management, also helped me out a lot with my new life in Vietnam. They would guide me on what apps to download or where to go shopping so I can quickly get used to the new environment."
FLORENCE MAISIE PARKIN – VUS LE TRONG TAN
—————————–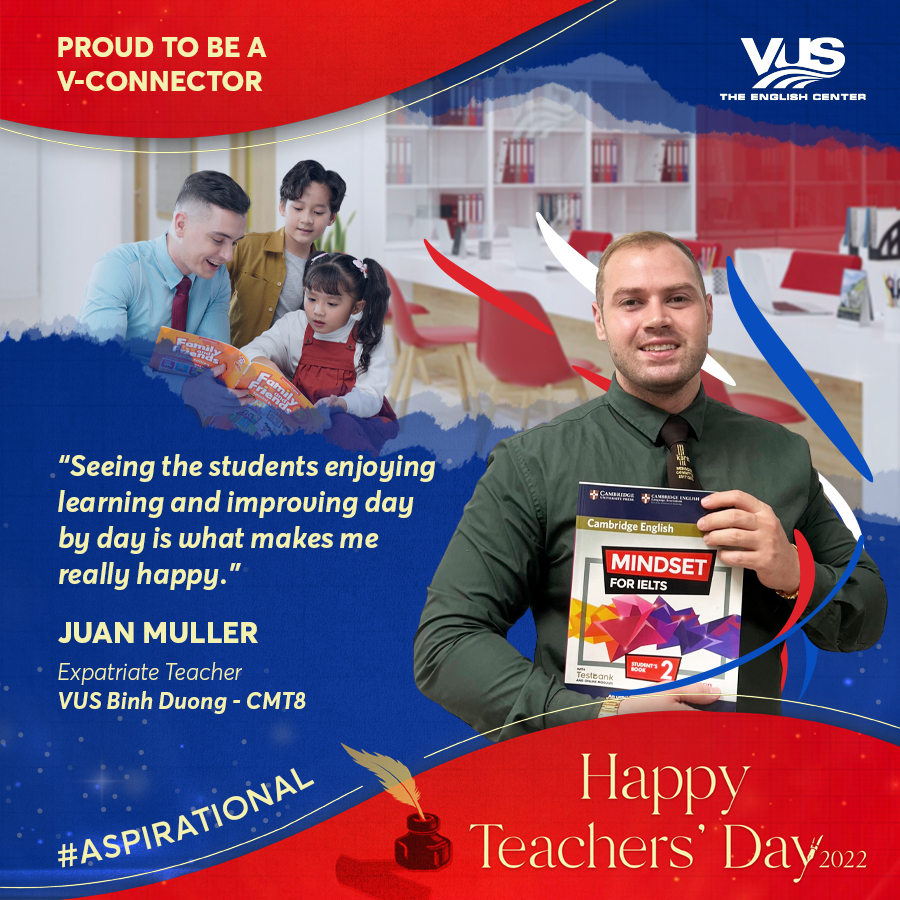 "Education was what I studied in university, so I really wanted to work in the teaching field. When I came to Vietnam and started my career here, I formed great connections with the students. It was the good bond with the teacher that made them love learning, and as for me, that bond also motivated me to do something for them. I began this job as a very shy teacher with no confidence. I had only 1 or 2 short-term goals back in the time. But currently, when I have gotten better, I have many more goals for my teaching career. Yet the most significant thing that I now aim at is to make the class as fun and interactive as possible, because seeing the students enjoying learning and improving day by day, knowing I am the reason, is what makes me really happy."
JUAN MULLER – VUS BINH DUONG – CMT8
—————————–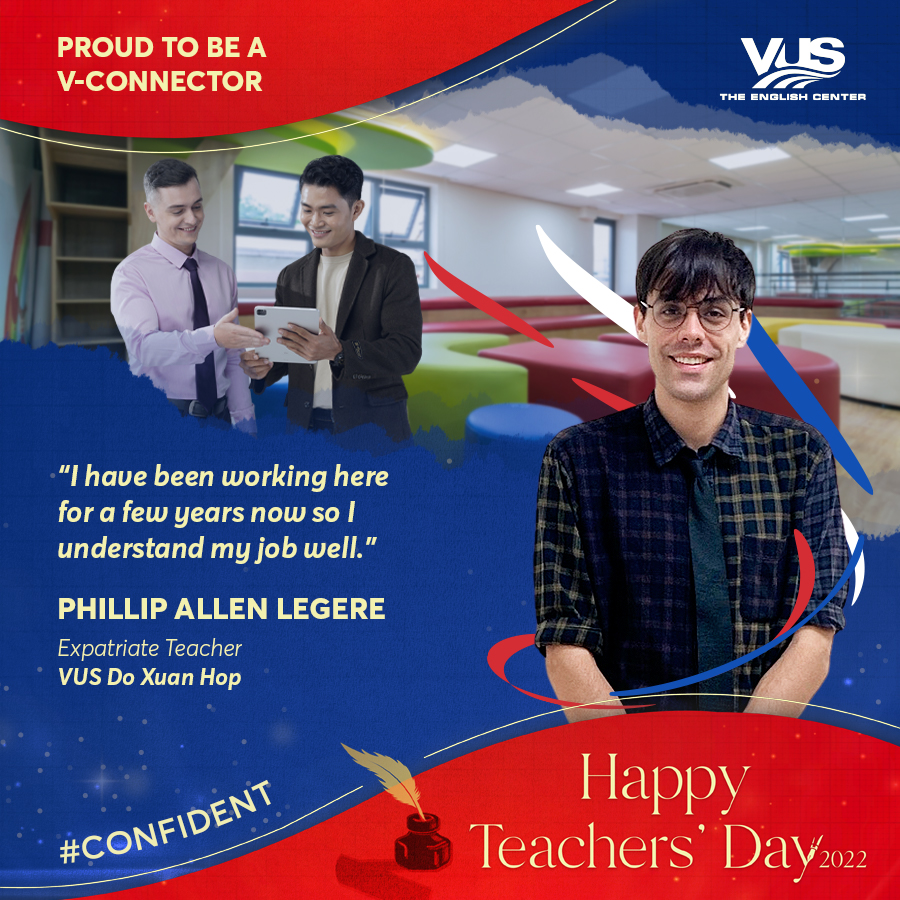 "What I love the most about working at VUS is the stability and the ability to do different things. I have been working here for a few years now so I understand my job well and have quite a lot of things that I can do. I can take a look at the lessons in the book and know exactly how my class that day should be organized. Because I have got acquainted with the types of classes, I can also comfortably take over classes whenever I have to substitute for other teachers. VUS really made teaching easier with their student levels system where they categorize students based on age and English level, which I couldn't find anywhere else. Working here is comfortable, with all the connections and support I received in every aspect of the job."
PHILLIP ALLEN LEGERE – VUS DO XUAN HOP
—————————–
For the best English teaching job in Vietnam, look no further than VUS. Please visit our website to learn more about the school and apply:

https://teachenglish.vus.edu.vn/