𝗧𝗛𝗘 𝗖𝗛𝗔𝗥𝗜𝗧𝗬 𝗚𝗔𝗠𝗘 𝗦𝗛𝗢𝗪 "𝗠𝗢𝗥𝗘 𝗙𝗨𝗡-𝗠𝗢𝗥𝗘 𝗥𝗜𝗖𝗘 𝟮𝟬𝟮𝟭" 𝗛𝗔𝗦 𝗦𝗨𝗖𝗖𝗘𝗦𝗦𝗙𝗨𝗟𝗟𝗬 𝗖𝗢𝗠𝗘 𝗧𝗢 𝗔𝗡 𝗘𝗡𝗗 ☀️☀️☀️
🌾 Our donation of 20,65 tons of rice was achieved with contributions from 103,250 participations in "More fun – more rice" during the past two weeks.
VUS greatly appreciates the efforts of all members of the VUS family across the country taking part in and contributing to this meaningful activity during the pandemic. The rice donated will be given to those in need in HCMC as soon as possible.

📍 "More fun – more rice" is one of the latest CSR projects at VUS. Not only has it spread love back to the community and contributed to social responsibility, but it was also an exciting and challenging game show that helped the contestants review their social knowledge and apply their English skills at the same time. The support from a large number of players and hundreds of participations are clear evidence of the widespread popularity of this successful CSR project
We hope that this minor contribution to our city will help the Covid situation to be controlled soon so that VUS can welcome you at our centers.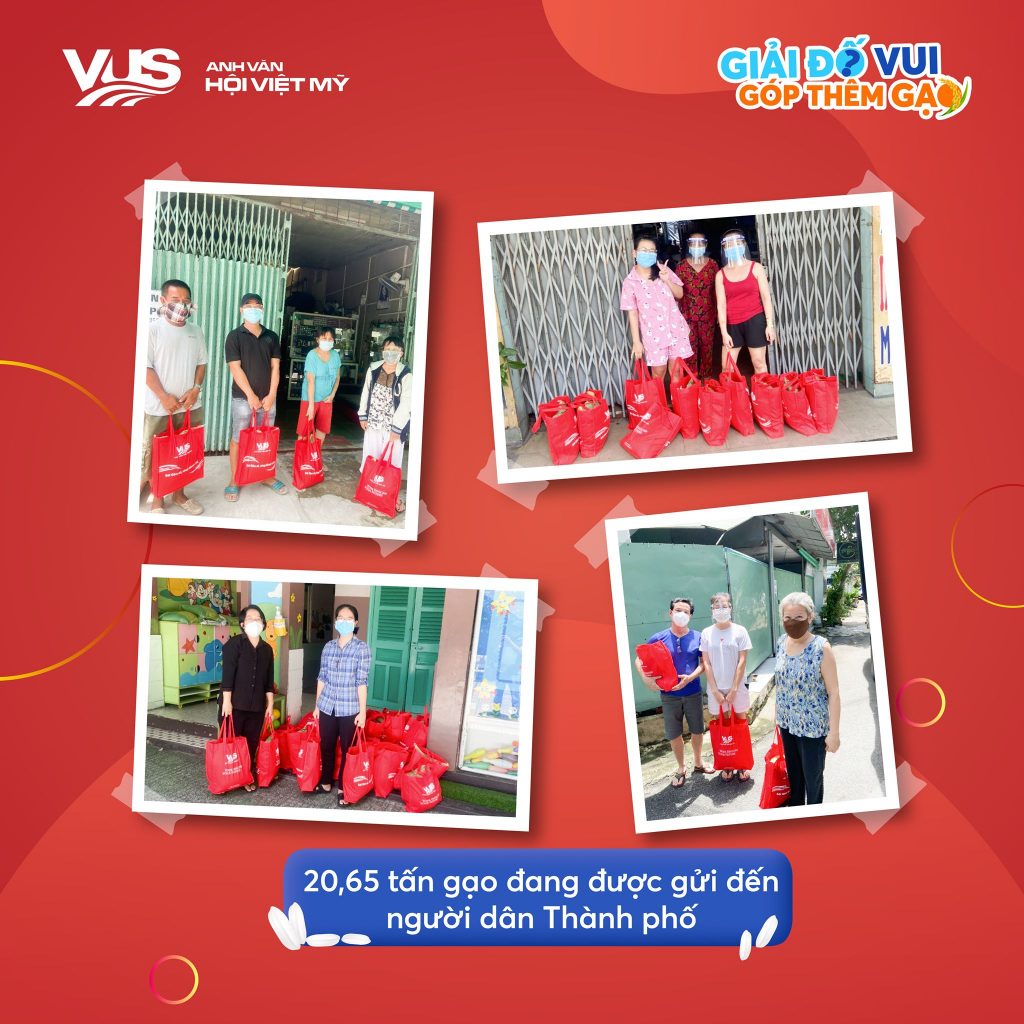 ❤️ Once again, we would like to show our gratitude to all our companions at VUS on l this journey of knowledge acquisition.
Additionally, VUS continues to deploy thousands of online classes for all ages in the community. Our online learners can access their classes at anytime and anywhere, and can take the opportunity to improve their English skills during this social distancing period.