𝗔 𝗟𝗢𝗩𝗘 𝗟𝗢𝗧𝗧𝗘𝗥𝗬 𝗙𝗢𝗥 𝗔 𝗛𝗔𝗣𝗣𝗜𝗘𝗥 𝗝𝗢𝗨𝗥𝗡𝗘𝗬
𝗢𝗡𝗟𝗬 𝟭𝟬,𝟬𝟬𝟬 𝗩𝗡𝗗 𝗙𝗢𝗥 𝗔 𝗖𝗛𝗜𝗟𝗗'𝗦 𝗠𝗘𝗔𝗟 𝗜𝗡 𝗛𝗜𝗚𝗛𝗟𝗔𝗡𝗗 𝗔𝗥𝗘𝗔𝗦

VUS is thrilled to announce that we are embarking on a heartfelt mission to uplift the lives of children from the highland regions via the Love Lottery program.
Through this special campaign, we aim to cultivate love for 100 highland region children by providing them with proper meals and safer schools with a total amount of donation of 165.000.000 VND.
For just 10,000 VND per Love Lottery ticket, you'll be actively "learning the art of spreading joy". What's more, the CEO of VUS will match every ticket bought, so your contributions will be doubled in value and the blessings will multiply.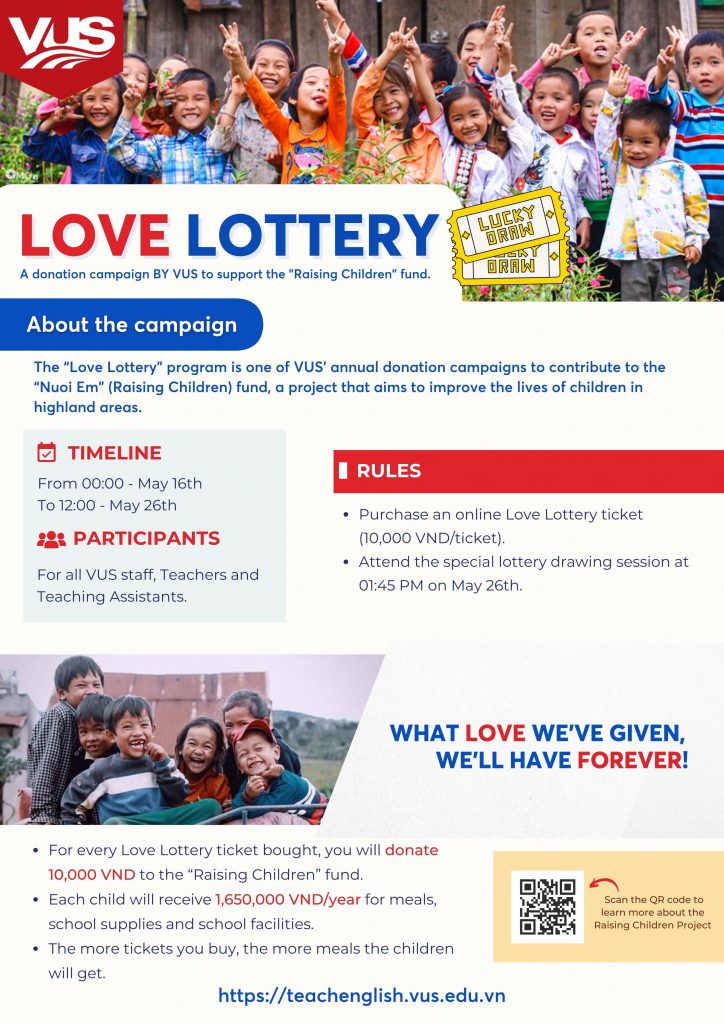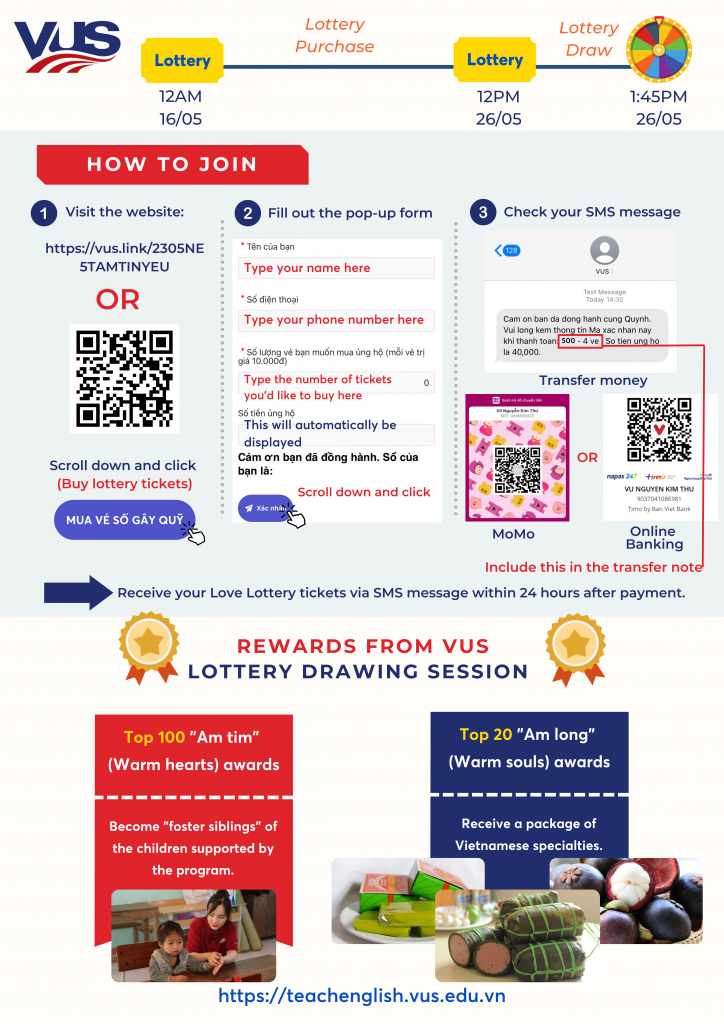 #VUS #VCommunity #LoveLottery #RaisingChildren
———————————
The "Love Lottery" program is one of VUS' annual donation campaigns to contribute to the "Nuoi Em" (Raising Children) fund, a project that aims to improve the lives of children in highland areas.
For more information about the "Nuoi Em" project, please visit: https://www.nuoiem.com/
To purchase Love Lottery tickets, please visit: https://vus.link/2305NE5TAMTINYEU