VUS has never stopped improving the quality of our on-campus teaching and learning in order to provide children all throughout the country with education of an international standard. As a result, for five years running, we have been acknowledged as the educational system in Vietnam with the highest number of NEAS-endorsed campuses.
Teaching at VUS is also the opportunity for teachers to work in a setting that has been approved by international standards. VUS has consistently developed our educational system using four core values as its cornerstone: confident, caring, collaborative and aspirational. Thanks to this, the teaching staff has been able to obtain the best assistance possible and therefore progress in their teaching careers.
In the joyful atmosphere of this event, let's hear what our wholehearted Expatriate Teachers say about their time at VUS.
Follow us for more exciting news!
#VUSEnglishTeachers#TeachEnglishAtVUS
—————————————————————–
For the best English teaching job in Vietnam, look no further than VUS. Please visit our website to learn more about the school and apply:
https://teachenglish.vus.edu.vn/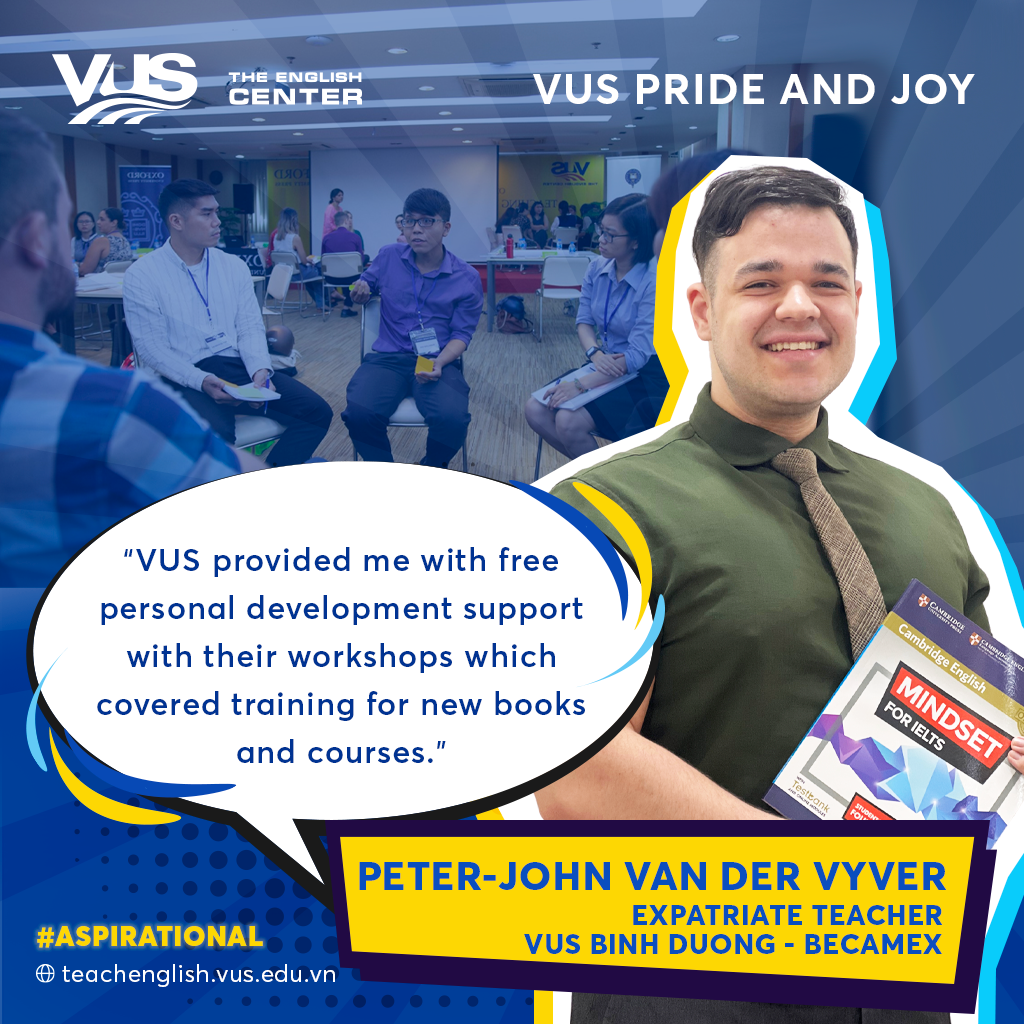 PETER-JOHN VAN DER VYVER – VUS BINH DUONG – BECAMEX – #ASPIRATIONAL
"When I first came to Vietnam, I was very nervous as things were quite difficult for me. But the general support of VUS during my onboarding process made me soon feel a sense of belonging as if I was a part of the family. VUS provided me with free personal development support with their workshops which covered training for new books and courses. Thanks to that, I was no longer scared of any new adventures as I was fully prepared."
—————————————————————–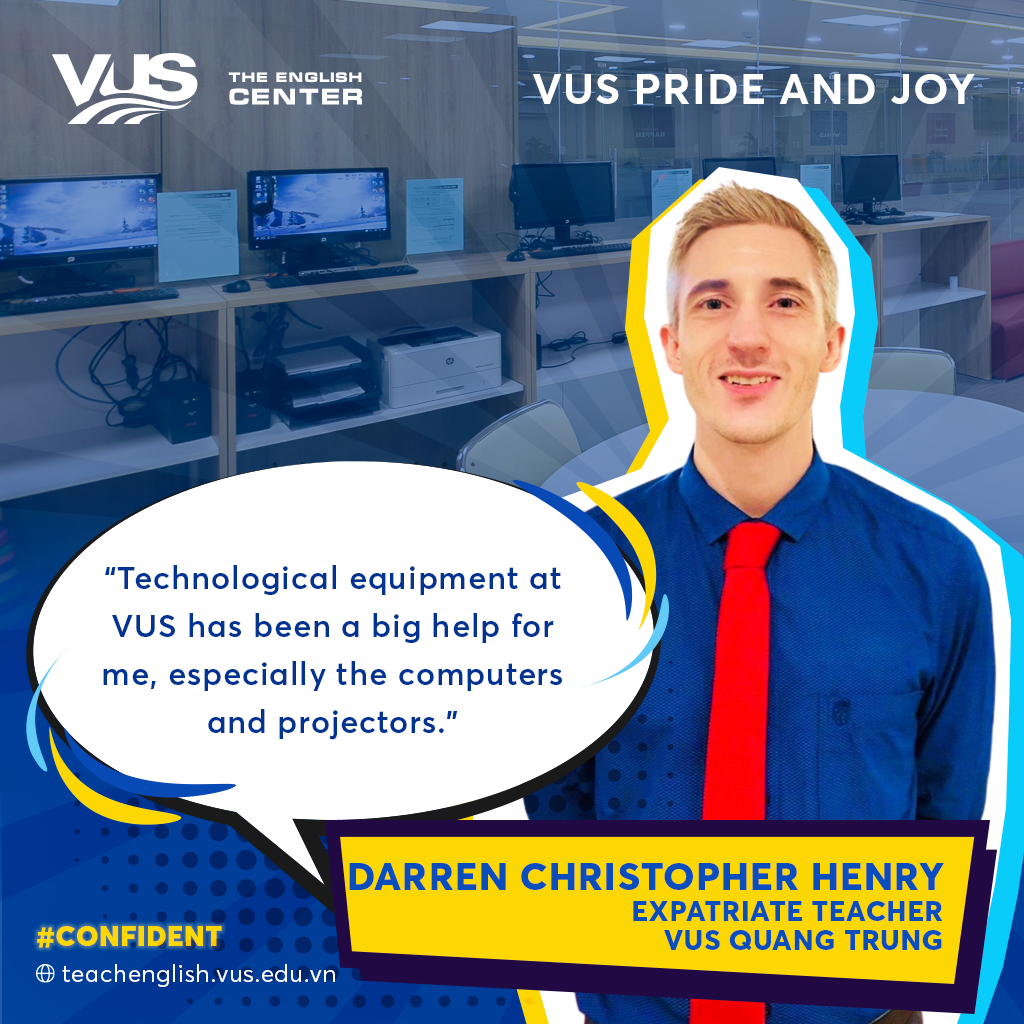 DARREN CHRISTOPHER HENRY – VUS QUANG TRUNG – #CONFIDENT
"Technological equipment at VUS has been a big help for me, especially the computers and projectors. I don't have to worry about carrying my laptop to work; all I need to do is to prepare the lesson plans at home, upload them on Drive, then I can go to VUS, access the computers, get the documents from Drive and print them out. The projectors are also helpful as they allow me to show books onto the screen, I can zoom in and have the whole class focus on specific sections."
—————————————————————–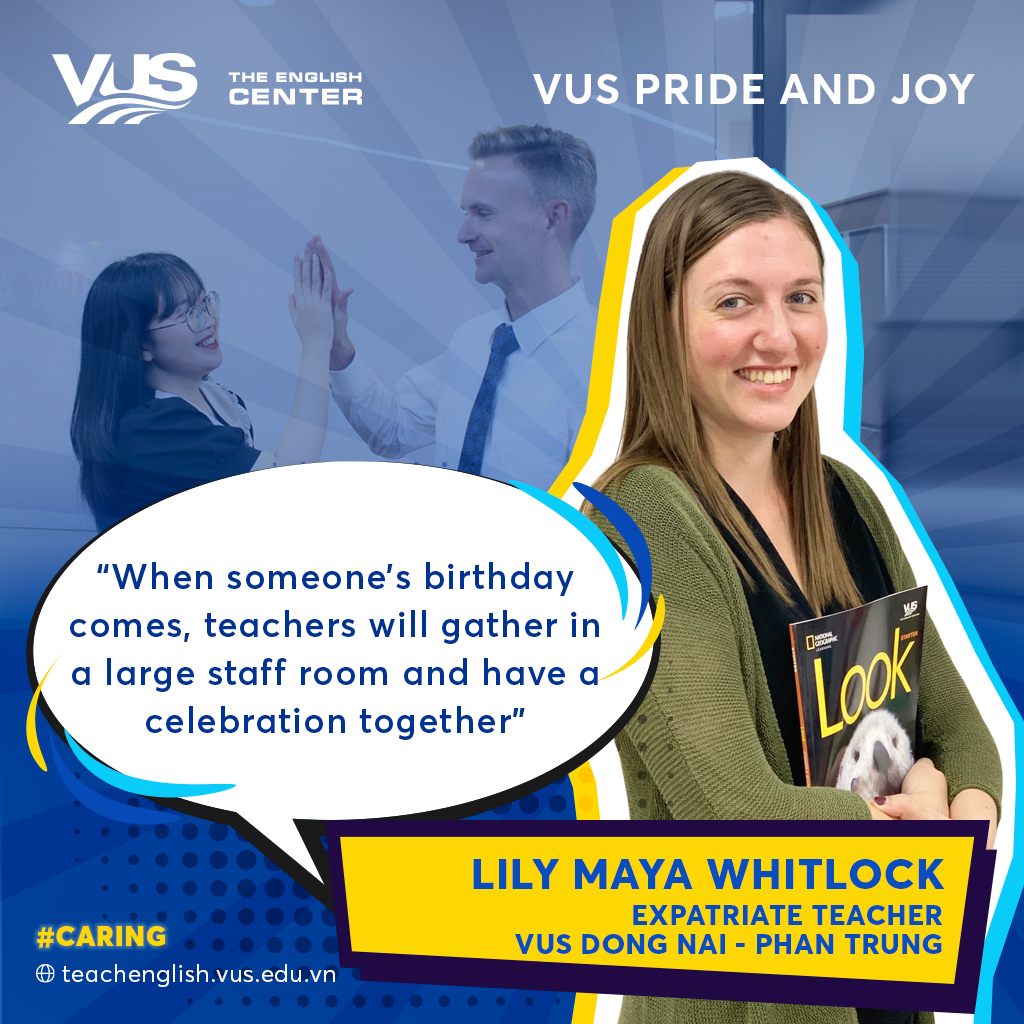 LILY MAYA WHITLOCK – VUS DONG NAI – PHAN TRUNG – #CARING
"One thing I find very great about the coworkers here is that everyone is very supportive and there's no one rude at all. When I first came to Vietnam and joined VUS, I had a hard time due to cultural differences in a new country. However, I received massive support from other expat teachers, they helped me get used to my new life in Vietnam because they were in the same situation and they knew what I was going through.
Also, when someone's birthday comes, teachers will gather in a large staff room and have a celebration together, even new expat teachers can have a chance too. That really makes me feel like everyone at my campus is always together."
—————————————————————–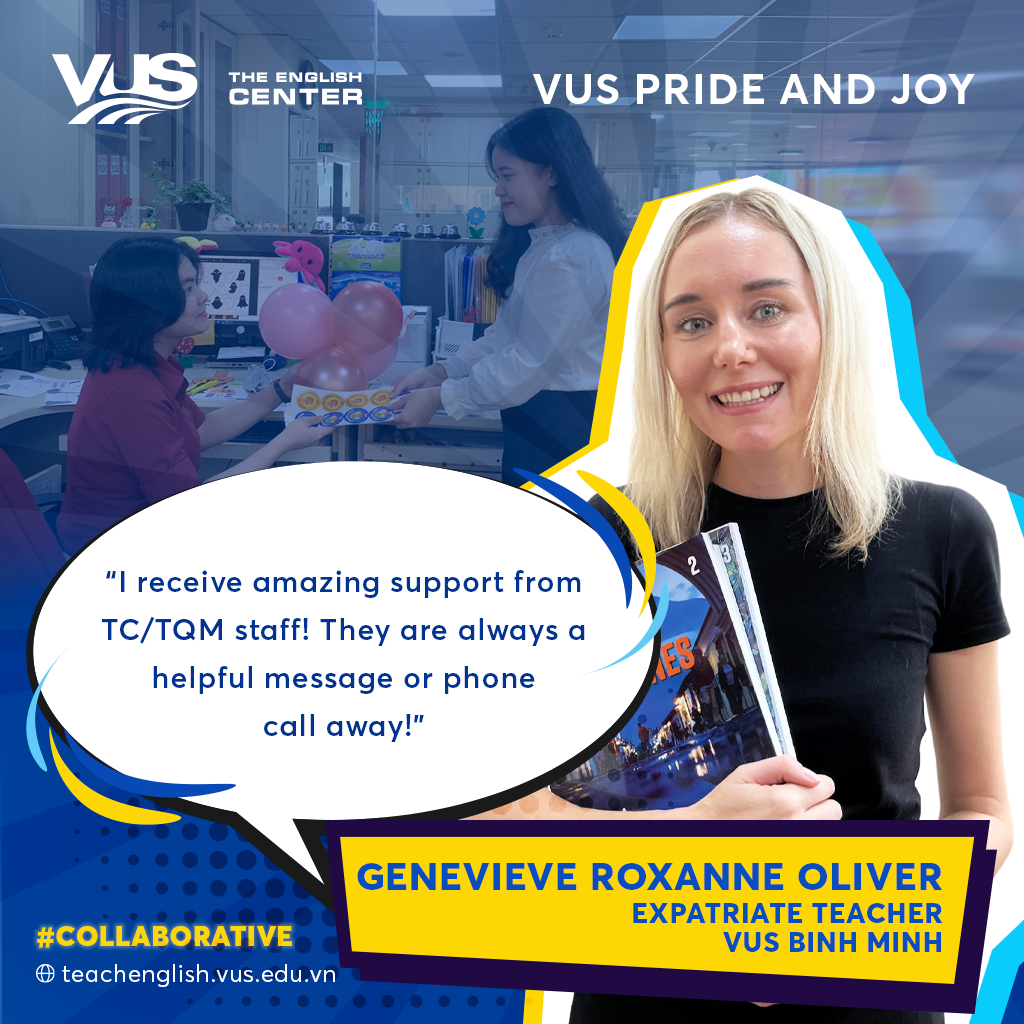 GENEVIEVE ROXANNE OLIVER – VUS BINH MINH – #COLLABORATIVE
"The staff and teachers are always willing to help no matter what! They always respond and listen to my requests, there's great communication! I receive amazing support from TC/TQM staff! They are always a helpful message or phone call away! On a scale from 1 to 5, I would rate it 5."
—————————————————————–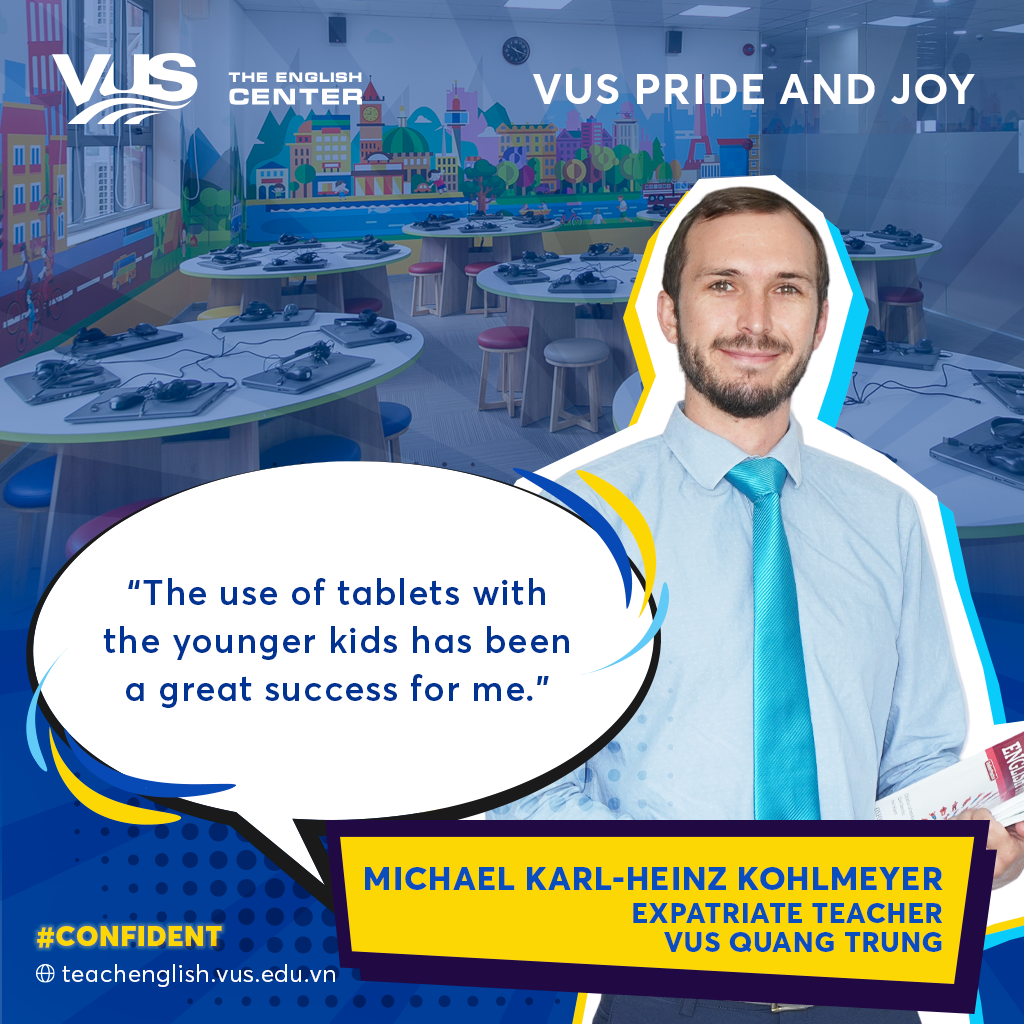 MICHAEL KARL-HEINZ KOHLMEYER – VUS QUANG TRUNG – #CONFIDENT
"The equipment is satisfactory and helps a lot with the younger classes. I would say that I use sporty games the most like basketball, golf and bowling. In this ever changing world, perhaps new technologies could be incorporated more. The use of tablets with the younger kids has been a great success for me."
—————————————————————–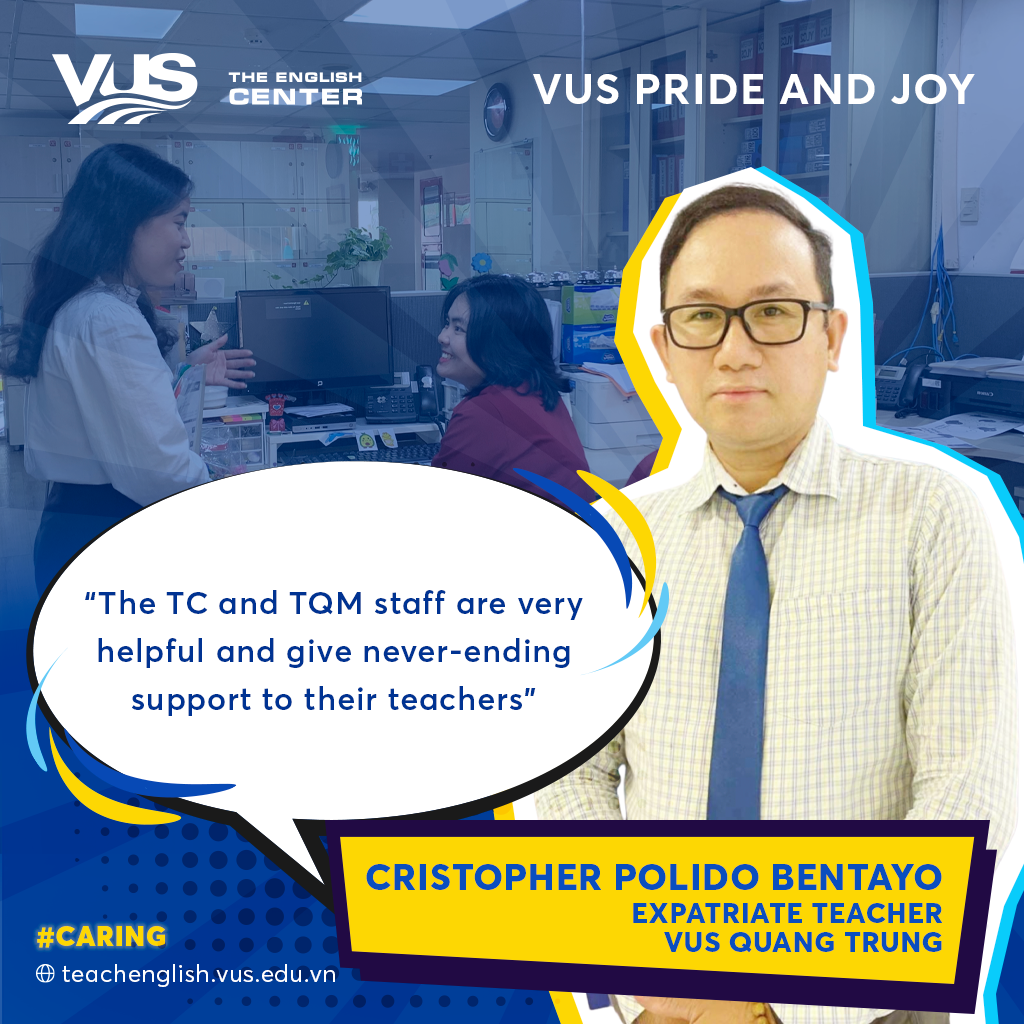 CRISTOPHER POLIDO BENTAYO – VUS QUANG TRUNG – #CARING
"The TC and TQM staff are very helpful and give never-ending support to their teachers. I'll give them 5 stars because I believe they are not just doing it for their job instead of their deep concern for the whole VUS Quang Trung family."
—————————————————————–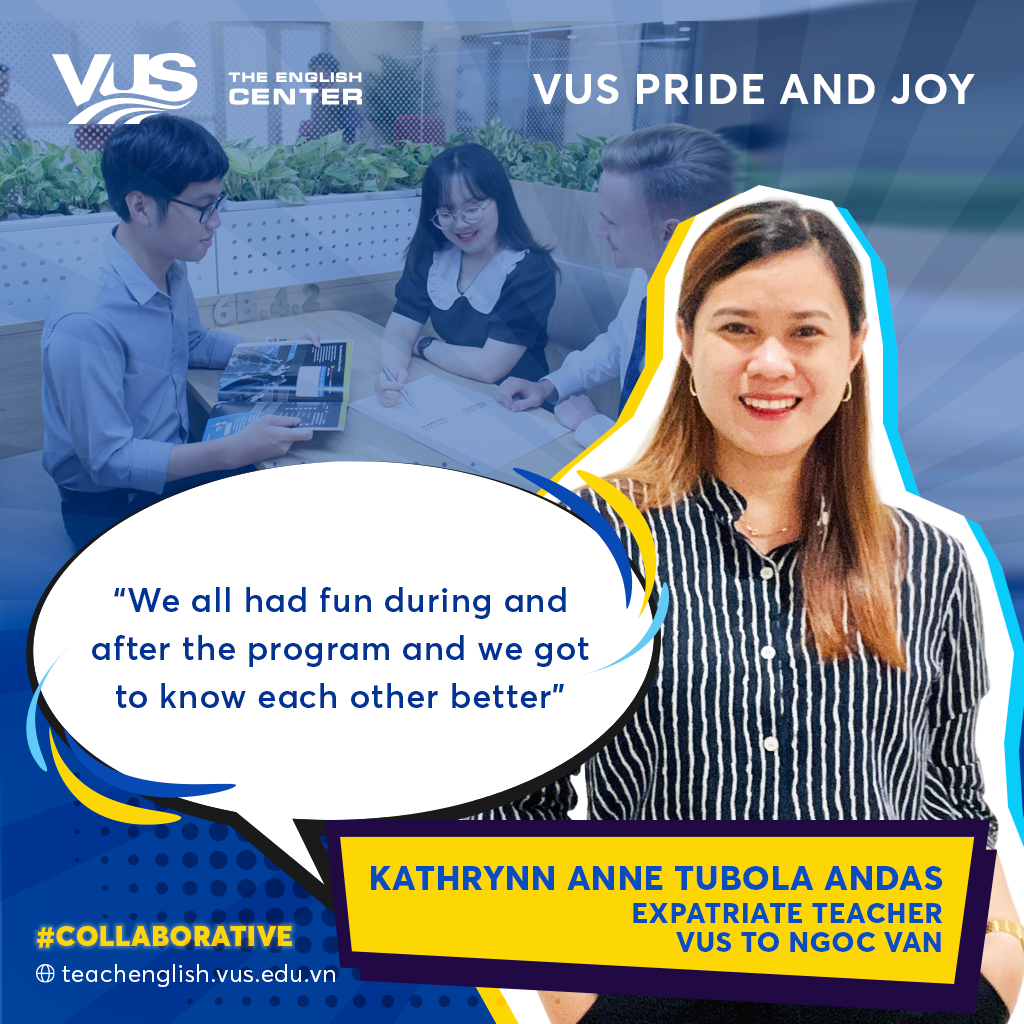 KATHRYNN ANNE TUBOLA ANDAS – VUS TO NGOC VAN – #COLLABORATIVE
"I think it's safe to say that I have a harmonious working relationship with my co-workers. One event I would never forget is when I first attended the VUS Teachers Day in 2020. It was my first interaction with my colleagues outside of work. We all had fun during and after the program and we got to know each other better. After this event, I feel like the mood in the office became even lighter and less awkward, at least for me."
—————————————————————–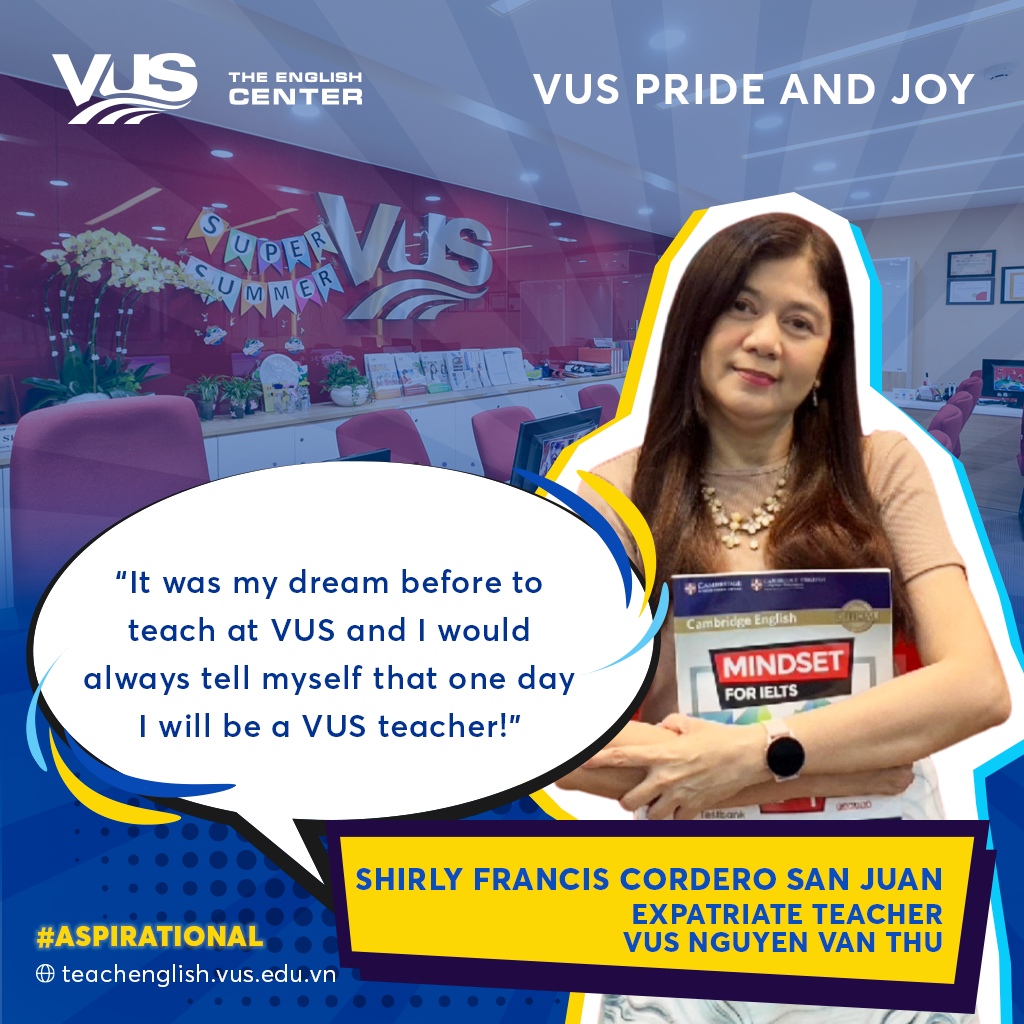 SHIRLY FRANCIS CORDERO SAN JUAN – VUS NGUYEN VAN THU – #ASPIRATIONAL
"Working at VUS is like a dream come true. It was my dream before to teach at VUS and I would always tell myself that one day I will be a VUS teacher. But I didn't expect that it will come into reality. I'm really grateful and thankful for the opportunity that VUS has given me. It's really a great privilege to be part of this prestigious institution."
——————————————-
For the best English teaching job in Vietnam, look no further than VUS. Please visit our website to learn more about the school and apply:
https://teachenglish.vus.edu.vn/