Trên hành trình góp phần tạo nên sự tiến bộ của các học viên, VUS đã may mắn được hỗ trợ bởi các V-Connectors đầy tâm huyết. Họ không ai khác chính là những bậc thầy cô và trợ giảng vẫn luôn hết mình cho sự nghiệp giảng dạy mỗi ngày. Họ cũng đồng thời là những đại sứ kết nối, giúp gắn kết mọi người lại gần nhau hơn, giữa bản thân với các học viên, đồng nghiệp và nhân viên tại cơ sở nhằm hướng tới một tương lai rộng mở hơn.
Mở màn cho chuỗi sự kiện tri ân đến các V-Connectors nhân ngày Nhà giáo Việt Nam chính là những bạn trợ giảng trẻ trung và chăm chỉ tại VUS. Với vai trò là một V-Connector, các bạn trợ giảng chính là nhân tố gắn kết với sứ mệnh xóa bỏ những khoảng cách vô hình giữa giáo viên và học viên. Chính các bạn đã góp phần tạo nên sự gắn kết giữa mọi người dưới mái nhà VUS, từ đó xây dựng một môi trường làm việc năng động, sáng tạo và thân thiện.
Hãy cùng lắng nghe những bạn trợ giảng nhiệt huyết của chúng ta nói gì về hành trình kết nối và khơi mở tương lai của mình tại VUS nhé.
———————————————
On the journey of contributing to the advancement of our students, VUS was fortunate to be supported by enthusiastic V-Connectors. They are none other than VUS teachers and teaching assistants who are always dedicated to their teaching careers. They are also the V-Connectors who help people get closer together and form the connection between themselves and the students, colleagues, and staff at the campus to reach a brighter future.
The series of gratitude events to V-Connectors on Vietnam Teachers' Day begins with the sharing of young and hardworking teaching assistants at VUS. As a V-Connector, teaching assistants are the connecting factor with the mission of eliminating the invisible distances between teachers and students. They have contributed to creating cohesion between people at VUS, thereby building a dynamic, creative, and friendly working environment.
Let's listen to what our passionate teaching assistants said about their journey of connecting and opening up the future at VUS.
Taking four core values – confident, caring, collaborative and aspirational – as the foundation, teachers and teaching assistants at VUS are also the V-Connectors who support and guide the students' learning journeys towards a brighter future.
#VUSEnglishTeachers#TeachEnglishAtVUS
#Vietnamteachingjob#TeachersDay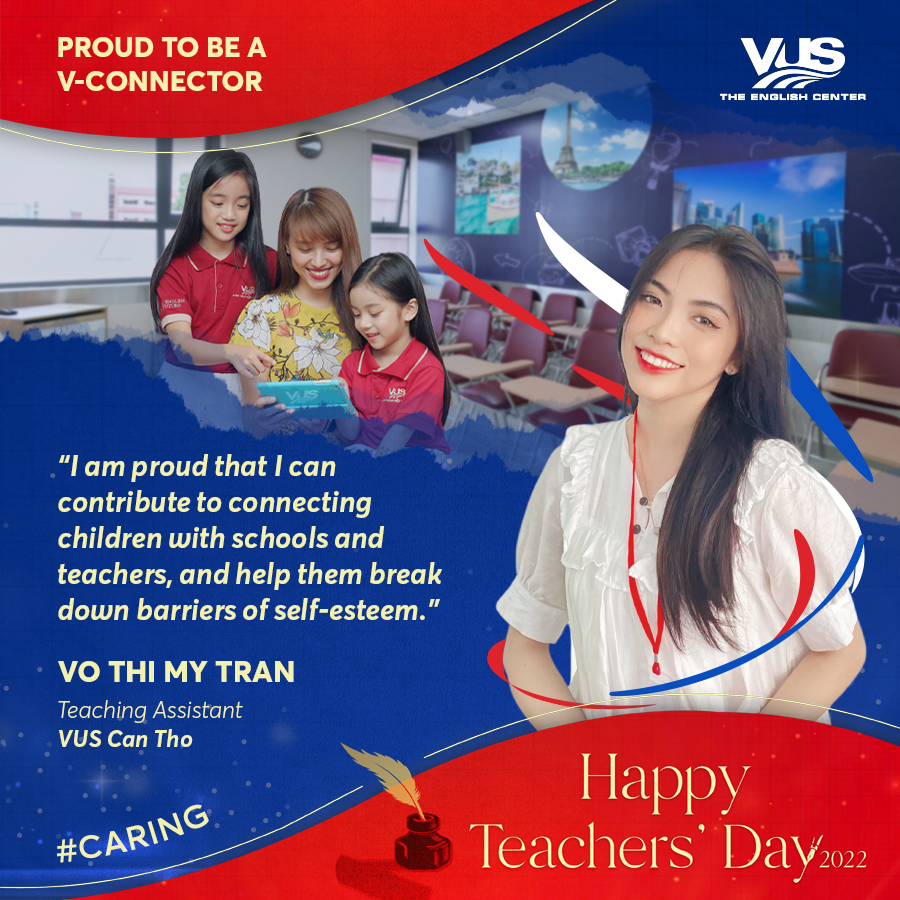 "Em tự hào là bản thân có thể góp phần gắn kết các bé với trường lớp, thầy cô, phá vỡ rào cản tự ti. Trong lớp em phụ trách, em quan sát thấy một bạn học viên luôn lắc đầu mỗi khi giáo viên hỏi và hay gục mặt xuống bàn. Cuối giờ, em đã ngồi lại và chỉ riêng cho bé thì em nhận ra bé biết hết những câu trả lời đó, chỉ là do thiếu tự tin khi nói chuyện với giáo viên nước ngoài và phải trả lời trước lớp. Hiểu được tâm lý đó, em đã cổ vũ bé và dành thời gian trò chuyện với bé nhiều hơn về sự thân thiện của giáo viên và bạn bè cùng lớp khác. Từ nỗ lực kết nối đó của em, bé đã chủ động tham gia các hoạt động của lớp hơn và hoàn toàn theo kịp những bài học trên lớp. Nên em nghĩ nếu chịu khó chia sẻ để tìm ra nỗi lo của các bé thì em có thể góp phần kết nối ngày càng nhiều giáo viên và học viên hơn nữa."
"I am proud that I can contribute to connecting children with schools and teachers, and help them break down barriers of self-esteem. In the class I was in charge of, I observed a student who always shook her head when the teacher asked a question and kept her face down on the table. At the end of the class, I sat down and explained the lesson to her one more time. Then, I realized that she knew the answers to all the questions, and she just lacked confidence when talking to expat teachers and had to answer in front of the class. Understanding her mentality, I encouraged her and spent more time talking to her about the friendliness of teachers and her classmates. From my effort to connect her with others, she actively participated in class activities and completely kept up with the class lessons. Hence, I think if I work hard to share with my students to find out their concerns, I can contribute to connecting more and more teachers and students."
VO THI MY TRAN – VUS CAN THO
———————————-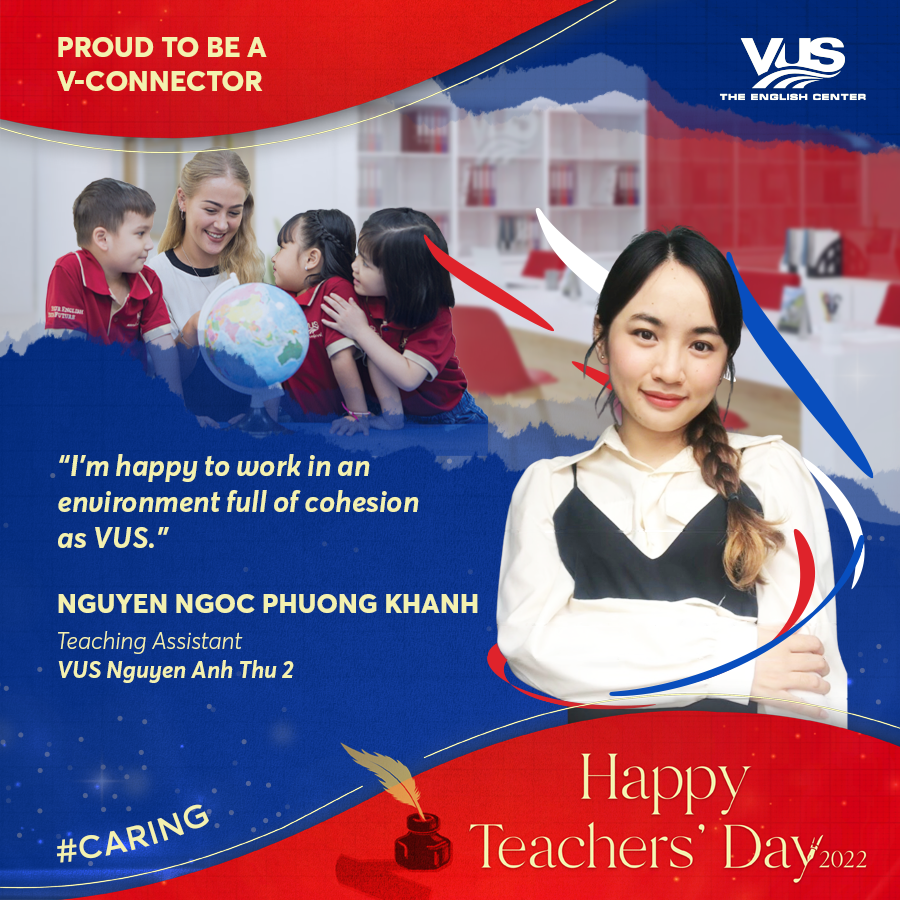 "Lúc đầu em vốn là người không thích trẻ con nhưng khi mang trong mình sứ mệnh kết nối các thiên thần nhỏ trong môi trường học đường, em phải là cầu nối để các bé cảm thấy an tâm tin tưởng để cùng nhau học tập. Khi đã thực sự được tiếp xúc và hiểu hơn về tâm lý của các bé, em dần trở thành một người yêu thích trẻ con từ lúc nào không hay. Trong buổi chia tay lớp học đầu tiên mà em phụ trách, em đã có một bài phát biểu cảm nghĩ trước toàn thể lớp. Do quá xúc động khi nhìn lại khoảng thời gian đã gắn bó cùng nhau, em đã không kiềm được nước mắt, các bé thấy vậy cũng khóc theo em. Những giọt nước mắt ấy là minh chứng cho cảm giác hạnh phúc của em khi được làm việc trong một môi trường đầy sự gắn kết như VUS. Một năm sau, khi em nhận một lớp mới có một vài bé trong lớp cũ đó, chính sợi dây liên kết ngày nào đã giúp các bé vẫn nhận ra em và mọi người đã có những kỷ niệm vui vẻ khác cùng nhau."
"I used to be a person who did not like interacting with children, but when I had the mission of connecting with them in the school environment, I had to be a connector to help them feel secure to learn together. When I was exposed to and understood more about the psychology of children, I gradually became a person who loved interacting with them from time to time. During the farewell session for the first class that I was in charge of, I gave an emotional speech in front of the entire class. Since I felt touched when looking back at the time we spent together, I burst into tears; as a result, the children also cried after witnessing that moment. Those tears are proof of my happiness when working in an environment full of cohesion as VUS. One year later, I was in charge of a new class and met some of my former students there. Due to the connection between us, they still recognized me, and we created more remarkable memories together."
NGUYEN NGOC PHUONG KHANH – VUS NGUYEN ANH THU 2
———————————-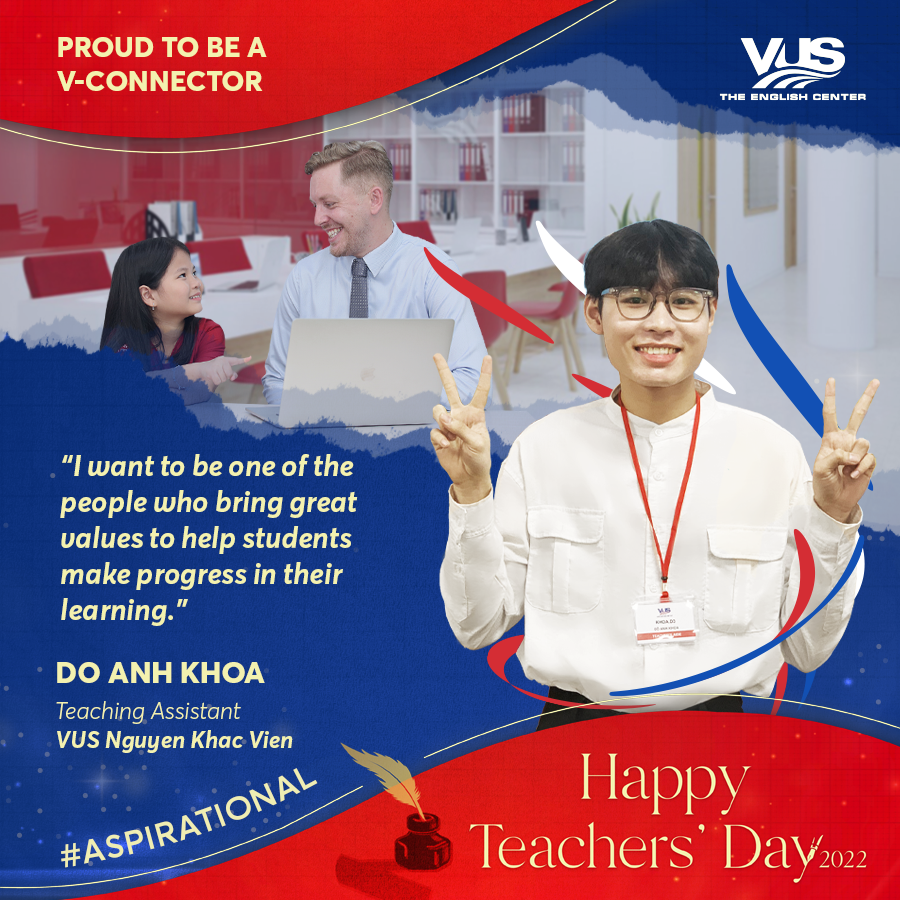 "Nhờ học tại VUS, em từ một người mất gốc tiếng Anh trở thành một người có thể giao tiếp trôi chảy với người nước ngoài nên em rất biết ơn và ngưỡng mộ cách giảng dạy của những thầy cô tại đây. Giữa thời đại toàn cầu hóa, việc giao tiếp Tiếng Anh tốt giống như một cầu nối giữa bản thân ra thế giới; chính vì vậy, em cũng muốn được trở thành một trong số những người mang lại giá trị tuyệt vời đó, có thể giúp đỡ và kết nối những bạn từng mất gốc như em có được sự tiến bộ trong quá trình học tập. Bước đầu tiên để thực hiện mục tiêu đó chính là quay trở lại làm trợ giảng của VUS bởi nơi đây chính là nơi đưa em đến con đường giảng dạy và gắn kết em với sứ mệnh thiêng liêng này."
"I used to have no prior knowledge of the English language before studying at VUS. Thanks to taking courses here, I can communicate fluently with foreigners at the present; therefore, I am very grateful and admire the teaching methods of the teachers at VUS. In the era of globalization, good English communication is like a bridge between oneself and the world. Thereby, I also want to be one of the people who bring great values to help and connect people who have similar situations to me to make progress in their learning. The first step to achieving that goal is to return to being a teaching assistant at VUS because this job led me to the teaching path and connected me with this sacred mission."
DO ANH KHOA – VUS NGUYEN KHAC VIEN
———————————-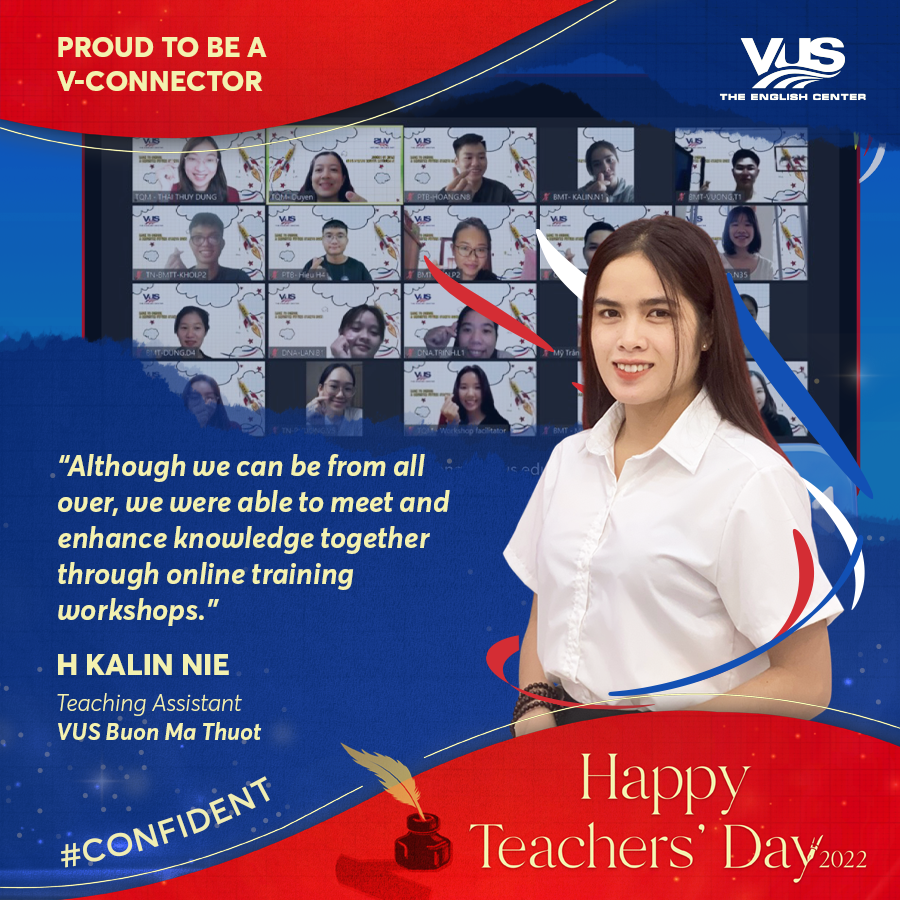 "Em cảm thấy vui khi được gắn kết với các thành viên VUS. Dù ở khắp mọi miền tổ quốc nhưng các bạn trợ giảng vẫn được gặp gỡ và trau dồi kiến thức cùng nhau thông qua những buổi training workshop được tổ chức online. Sau buổi workshop, em đã nắm rõ cách giải quyết và tự tin hơn 80% khi thực hiện công việc của mình. Thông qua những lý thuyết về cách quản lý lớp học và thái độ làm việc đối với nhiều đối tượng khác nhau mà các anh chị TQM đã truyền đạt, em đã có những góc nhìn sâu sắc hơn về công việc của mình. Đặc biệt, những tình huống ví dụ trong buổi workshop đều rất thực tế, có tình huống em đã từng gặp khó khăn trong quá khứ như báo cáo tình hình học tập với phụ huynh của các bé. Em rất mong được tham gia tiếp tục những buổi chia sẻ như vậy trong tương lai."
"I feel happy to have bonds with members of VUS. Although teaching assistants are from all over, we still have chances to meet and enhance knowledge together through online training workshops. After attending the workshop, I understood the solution and was 80 percent more confident when performing at work. Based on theories of classroom management and working attitude towards different subjects that TQMs have imparted to us, I had profound insights about my job. The situations offered in the workshop are realistic. In the past, I used to find one of those situations difficult to deal with, reporting study situations to students' parents, for instance. I hope that I will have a chance to join similar sharing sessions in the future."
H KALIN NIE – VUS BUON MA THUOT
———————————-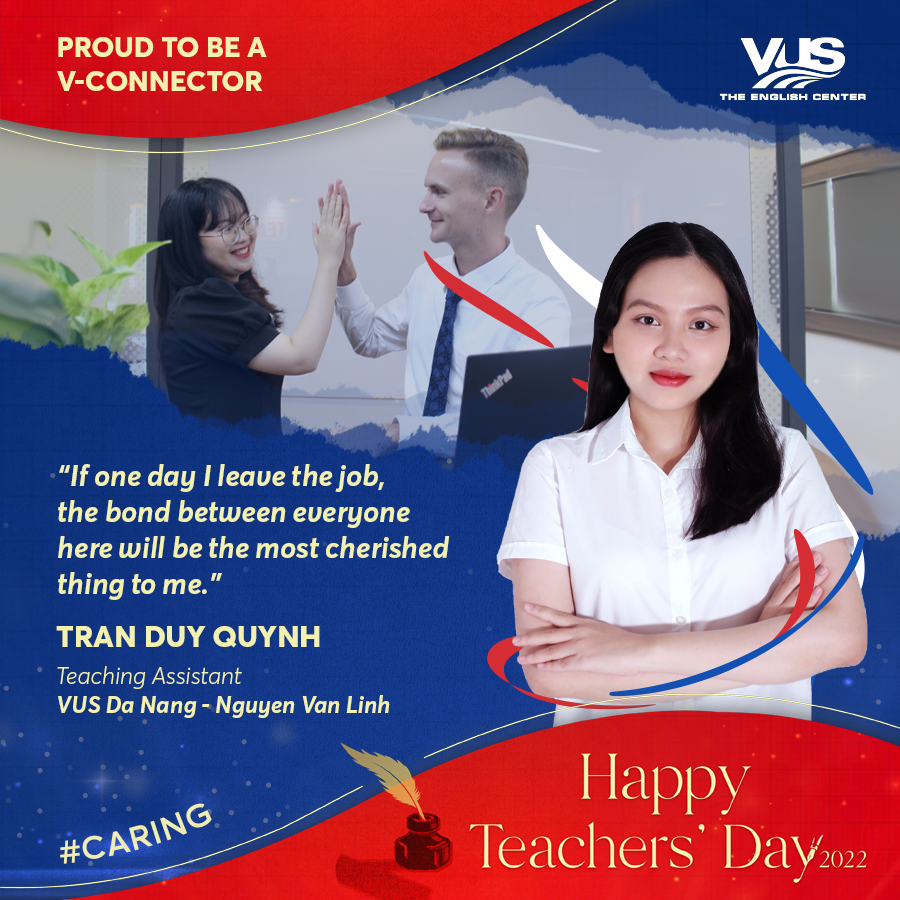 "Động lực khiến em muốn gắn bó lâu dài với công việc này dù đang học một chuyên ngành không liên quan đến giảng dạy đó là mỗi ngày đi làm được gặp mọi người ở VUS. Dù mọi người có background khác nhau nhưng mọi người đều gắn kết với nhau vì mục tiêu chung là đào tạo. Trên hành trình kết nối đó, em nhận lại được vô vàn yêu thương từ những em học sinh của mình. Những hôm em có việc bận phải nghỉ và trở lại lớp vào ngày hôm sau, em nhận được rất nhiều lời hỏi thăm từ các bé học viên và giáo viên ở lớp. Ngày 20 tháng 10 vừa rồi, các bé nhỏ đã chủ động phối hợp với nhau, lên kế hoạch đi sớm để trang trí lớp học và tạo sự bất ngờ cho em và giáo viên. Sự gắn kết giữa mọi người ở VUS là điều em trân trọng nhất nếu một ngày không còn làm tại đây"
"Even though I am not majoring in teaching, the motivation that makes me want to stick in this position for a long time is meeting my colleagues every time I go to work. Although everyone has different backgrounds, everyone is connected because of the common goal of training. Through these connections, I received a lot of love from my students. On the days when I had to take days off and return to work the following day, I received a lot of attention from teachers and students. On the last October 20, the students actively coordinated with each other, planning to go to class early to decorate the classroom and create a surprise for the teachers and me. If one day I leave the job, the bond between everyone here will be the most cherished thing to me."
TRAN DUY QUYNH – VUS DA NANG – NGUYEN VAN LINH
———————————-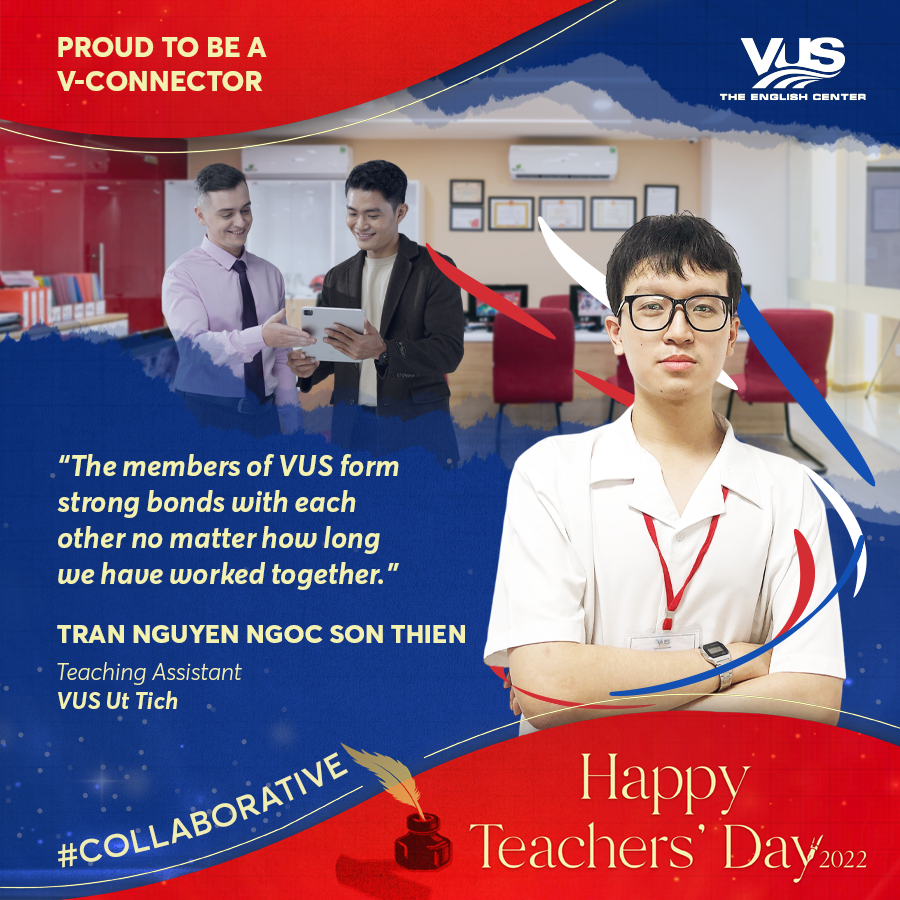 "Mỗi thành viên của VUS đều gắn kết với nhau dù là người mới hay cũ, các thầy cô đều rất thân thiện và chân thành nên em cảm thấy khá dễ dàng trong việc cùng nhau tạo nên không khí vui vẻ của lớp học. Khi làm việc với giáo viên mới, em có quan sát được những cách truyền đạt chưa hiệu quả và thành thật góp ý với giáo viên sau buổi dạy, đồng thời em cũng chia sẻ với TQM cơ sở để có những đề xuất đóng góp cho giáo viên mới. Qua những đóng góp mang tính xây dựng này, thầy cô đã rất tích cực ghi nhận và chủ động thay đổi để phù hợp hơn với văn hóa giảng dạy tại VUS. Thành quả là các bé học viên được tiếp thu trọn vẹn và em cũng gắn kết hơn với giáo viên của mình."
"The members of VUS form strong bonds with each other no matter how long we have worked. The teachers are all friendly and sincere; accordingly, we create a happy atmosphere in the classroom together without difficulty. When working with the new teachers, I observe the ineffective ways of imparting and honestly give suggestions to them after the class. I simultaneously tell the TQM about the situation so that the new teachers can get support in improving their teaching methods. Through constructive contributions, teachers have been active in recognizing and changing to integrate into the teaching culture at VUS. As a result, the students can absorb lessons easily, and I am also more connected with teachers."
TRAN NGUYEN NGOC SON THIEN – VUS UT TICH
——————————————-
For the best English teaching job in Vietnam, look no further than VUS. Please visit our website to learn more about the school and apply:
https://teachenglish.vus.edu.vn/